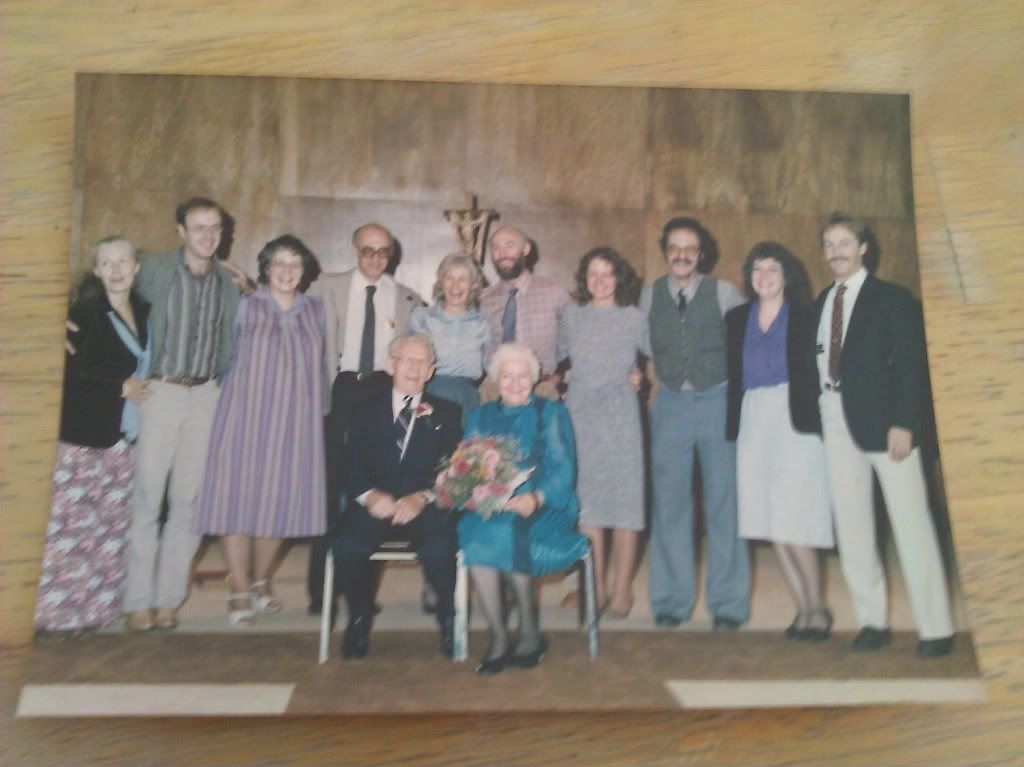 For whatever reason, Photobucket and I have different opinions on how this first photo should be "standing"...but, anywho...this is a photo of a photo...the original is a 5x7 photo of my Mother with her parents and all her brothers and sisters. The only photo of the 12 of them that I know of! At least the only one where all 12 where present...from left to right (top down) there is Nancy, Pat, Mary (aka Mom, my sister is in there too), Joe, Gail, Dan, Elizabeth, Dick, Donna, and Wayne, Wally and Marg (my grandparents) are the two sitting in front. This was taken back in 1985 at their 49th wedding anniversary (celebrating their 50th because they fudged the year many moons ago when it wasn't "okay" to be pregnant before marriage...
Now, the reason for the photo of the photo! We got this fancy new print/scan/copy/fax machine...I tried to scan some photos so that I could enlarge/shrink them to fit in the picture frames I have. Turns out, they put something in the professional photos to keep you from doing this! So, smart cookie that I am, I took photos of the ones I wanted to make fit in the frames and then cropped them down to remove the "table" from the background. Then, I was able to print 4x6 "copies" to fit the frame! They aren't "perfect", but from a distance, they don't look half bad either!
The picture frame thing is a project I have had in the back of my mind for a long time now. We've lived here over 4 years and still had no photos on the walls! So, I went to town purchasing $3 and $4 plastic frames at Wal-Mart, I like the look of having all black frames. Then, I spent a few days pouring over all the photos we have of all the nephews (we currently have 4 nephews and come Thanksgiving that number will grow to 5) and both sides of our family. I even refrained from putting pet photos up! They're going to need their own wall I think anyway...
In the end, I got 2 groupings of photos hung on the wall and I have one more collage-type frame left to fill still. See that frame with 4-openings in the top right corner? The top right photo in that frame is the one of the 12 I posted first here, in a neat little 4x6 package! We get lots more pictures of my sister's kids than we do of our nephew on the other half's side, so the number of photos is a bit lop-sided as well...in this set, there are 3 photos of him, all in a frame together on the right side. The 8x10 here is one we special ordered of the oldest nephew last Spring...we are the only ones that have a copy of that photo!
The second group of photos turned out harder to snap a photo of...but I did manage to capture a semi-decent look at it behind the other half while playing a game last week! Here we have space in 5x7 frames for the boy's school photos, the two that are in school right now anyway...and room for three more frames in the coming years (the boys are 7, nearly 6, nearly 4, 2, and almost born), we have a while yet though...
The look I'm getting in this photo was due to the game...we got our copies of Quelf and The Logo Game a few weeks early, so while Mom was here, we played a game of Quelf! I had a "showbiz" card that required me to "pretend" to take photos of the other players while saying things like "Work it, move it!" and "Who's a dirty bunny?"! I got extra points by using a real camera... The game is pretty fun, but would be a lot more fun with more people.
Sunday and today we bought new curtains for all three bedrooms (two of which we call offices) and the kitchen. The bedrooms all got "smart energy" blackout curtains, though the light beige colored ones in the bedroom don't block much of the light there. For the kitchen I found a "3 piece set" for under $8! But, my kitchen window is tiny...the top tiered piece dangles down to about 4 inches above the window sill! For now, I will save the other two curtains that came in the set...I may find a use for them somewhere else!
Last but not least on the whole "3 weeks of catch up thing"...last week when I took my Mom home, everyone at her house was sick. Since I have surgery coming up next week (okay so not the "last" thing...), I stayed in a hotel overnight before driving home, to avoid getting sick. Trying to find a "cheap but good" room at the last minute led me to hotels.com. The "cheap" rooms ($45/night) were in hotels and motels that have been seedy dumps since I was a kid, so I opted to skip those. Our usual favorite, The La Quinta, was $95 a night plus all the taxes and fees, more than I wanted to spend for a single night...especially when I didn't have the dog with me. So, I ended up booking a room at the Shilo Inn, $80 plus taxes came to just over $88. The room came with a ticket for free breakfast as well as a free beer or wine that evening in the lounge...I didn't use either though, breakfast alone just didn't appeal to me when I could get a sausage patty, folded egg, and a slice of cheese at McDonald's 2 hours down the road. As a side note...don't get coffee at McDonald's...I ordered my cream and Splenda on the side...I got it mixed in and I'm pretty sure from the taste, that the creamer is powdered and
full
of carbs! I wanted Starbucks...I have a gift card and I want to earn my free coffee darn it! That being said, I've been spoiled by the drive-up Starbucks and the "Starbucks on every corner" aspect of living in a larger city...the only drive-up I know of in Central Oregon meant a trip in the wrong direction across town and so I opted to go toward home...4-6 small towns later, I finally gave up my search for Starbucks coffee and got it at McDonald's...my blood sugar was over 300 withing an hour of drinking my coffee!
But, back to the hotel room I did get! Not knowing exactly what I was getting was sort of fun in a nerve wracking kind of way...I got the cheapest room available, a queen bed with kitchenette and sofa bed! The room was
huge
! The sofabed was in a living room are the size of my bedroom at home! The kitchenette was tiny, but there was enough room to stand between the bar (with 2 stools) and the mini-fridge. It had a 2-burner cooktop, a toaster, and a small set of pots/pans/dishes. I took advantage of the fridge for all my "road snacks" (cheese and veggies), I even added a slice of sugar free pie from the Shari's across the street where I ate dinner. I was glad to have that along too, I went low in the middle of the night and didn't really have anything with me to treat it! In addition to all this "space", there was a standard "hotel room" attached too (bed, TV, bathroom)! The living room even had a second TV and a fireplace! Yep, I get psyched about stupid stuff...
Sadly, the cable was acting up, so no hometown TV for me...I watched movies on Netflix taking advantage of the free Wi-Fi instead! I also drank a beer...but not the free one, I had brought my own from home...a single 12-ounce bottle of Michelob Ultra! 2.6 grams of carbs and a welcome drink after a 7 hour car ride (8 if you count taking my Mom home and driving back to the hotel) with another 7 hour trip planned for early the next morning!
Dinner that night was an Ala Carte order of Bacon, Eggs, and Cottage Cheese at Shari's. It was free pie night, which we usually avoid, but it was close to the hotel (literally across the street) and we had been talking on the way down if it was worth eating the center out of the Marion berry pie or not. As for the pie filling theory...it isn't worth it! But, I did eat the whole slice, carb-y crust and all, when my blood sugars dropped below 50 around midnight! I also ate a protein bar (free sample with our order from SDC, I love those guys and now my Mom does too!) that was full of "natural sugars", and a cup of coffee with 3 packets of
sugar
in it as well! Being low and not at home is always rough, but it's especially scary when you are away from home, it's late, and you're alone! Also, I only got cell phone reception if I stepped out into the grass off the patio of my room...
Okay,
now
the last thing...my fibroid "saga". I have surgery scheduled for the 17th of this month, just 6 short days from now! They'll be doing the surgery with the robot (which is awesome), so I should be home and back in my own bed by the evening of the 17th as well. I have a pre-op appointment with my surgeon on Monday, then Surgery on Tuesday, the other half's birthday on Wednesday...then we get into the time frame when our 5th nephew is due! For that, I'll be driving back to Central Oregon to help take care of my sister's other 3 boys. Depending on when she has the baby (if it is by C-section it could be as early as the second week in November), we are talking about inviting her current youngest to come spend a few weeks with us here in Spokane. She is due on Thanksgiving, and we will be back for Christmas 3 weeks after that (the week before Christmas), so we may have him for 3 to 4 weeks, it also depends on how long I stay in Central Oregon after the baby is born too. But, for now, I am looking at renting a large car/minivan for a week. I'm looking for a better deal than what I can find right now, which is just over $200 for the week!
The surgeon guesstimates that the fibroid is about the size of a volley ball right now...and I should see an immediate size change after surgery! The last time I was pants shopping, I got into a size 20 comfortably...that is down from a tight size 28 a year ago!
Okay, I lied again...this is the last thing...
It has officially been 1 year since I started low-carbing life again! So here are lots of snips from my weight loss Excel spread sheet! I have talked about my extensive spread sheet before, but here is the overview...the really light grey (hard to read) bit is min/max total loss weights ("healthy" BMI range for my height) and a "sample" weight so I could work out kinks in the system. All the pretty colors on the right is my color-coding "key", green ones are in the healthy BMI range, red is anything in the "overweight or obese" BMI range! Orange is when I thought I'd reach a given goal... On this one you can see my official start weight...297.2 pounds! What is worse is that that weight is down from the 316 pounds I hit (on my scale at home) when I decided I needed to do something drastic! I essentially lost over 20 pounds just prepping to start this way of eating!
As long as I stay at a semi-steady pace, I should be able to reach my "end goal" in about 3 more years, give or take a few months. I think the pace I'm losing at is a little more realistic than my original goals, but nearly 40 pounds in a year is awesome in my book! I wonder though, how big this fibroid could have gotten if I hadn't lost so much weight (or even just the inches) and noticed it...I really have no idea how long this could have been growing for (I suspect it's been there for a very long time...)!