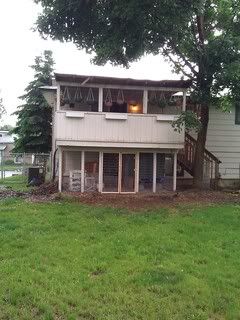 As plans change on a nearly hourly basis around this house, ours did in deed change again! After coming home from Urgent Care, my other half and I decided to brave the rainstorm (thank you weather man, Bill Kelly, who said it was only supposed to be spotty rain, not!) and work on the doors anyway. And, we got them done! We do need to clean out the construction materials and other "things" we've been storing under there while I worked, but the run is complete!
The hinged latch that will house our weatherproof padlock is an interesting one, but we made it work! I do plan on painting it, but for now, it's "good enough"! The rain finally chased us in around 2:30 this afternoon when it over powered the huge Maple that was acting as a rain guard while we worked. I still have a couple more latches for the doors (a hook and eye at the bottom and a barrel bolt at the top), just to secure them a little better and hopefully help keep them closed! Because of the slope of the earth, both doors had to swing out, not how I had planned them, but it works! Top, bottom, and all sides are perfectly spaced even!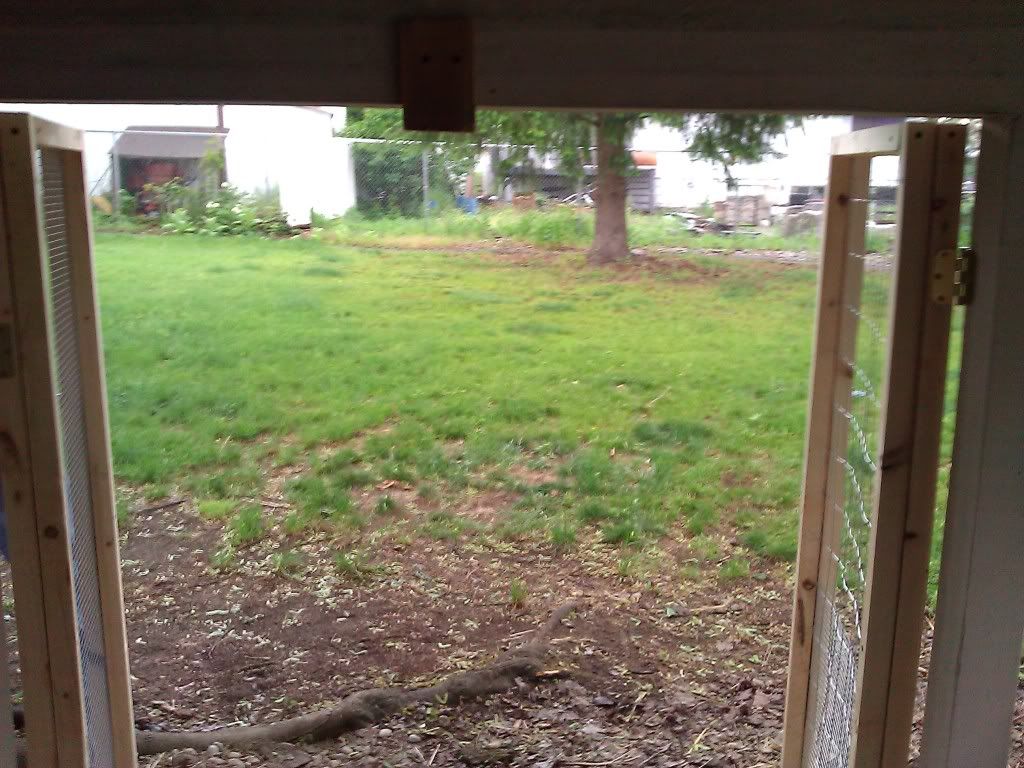 It is pretty much two sets of doors, with the wire mesh and fencing sandwiched in-between. It really made a pretty solid door! It isn't perfect, but then again, it fits in with this project, lol. The door on the right of the photo with the doors open is slightly wider than the other door (by a whopping 1.25 inches") so the hardware cloth, at 24" wide, couldn't connect on all 4 edges at once. So, we made a hardware cloth bottom piece and then put the 2x4 fencing at the top of that door. The other door, which is the skinnier door, fit the width of the wire mesh perfectly so we just used it.
We used the measurements on the left!
Tomorrow morning we'll get the "junk" out from the run and we can finally get the girls into their permanent home! I am so freaking excited! And, I'm only about 2 months late in getting it done, lol! I've included a shot from
Google Sketch Up 8
...this is what I used when making the doors. I had actually planned out two different options for putting the doors together, but I decided to go with matching sides as the cuts were easier to make! My original plan had been to make each frame so that the pieces all over lapped, but I decided it was much easier to cut everything the same...and we avoided having to cut at 4' 9 1/16" to boot! 5' 1" is so much easier! Everything fit perfectly too...which is really odd for something I built! The gaps were even where they belonged for once! I really enjoy that sketching program, even better is that it is totally free to download! They do have a paid version, that has even more bells and whistles, but the free version works great for me.
And back to
Bill Kelly
...this guy is our favorite weather man on the 11 pm NBC news! He has some odd fascination with Fairbanks, Alaska though...so we get lots of updates on how their weather is too. He is really a crack up at 11:05 when he gets to do his weather...