My garden is going strong again this year, if you're an Herb! It seems to be what I'm good at growing! So, I have another drying season ahead of me, which always gets me looking for a Food Dehydrator. It doesn't have to be anything special like an
Excalibur
or anything...a cheap one from WalMart would keep this girl happy! If I can find one for a decent price that is...so far I still don't have one, lol. Sears.com sells a Ronco version for $36 even, that'd do me good! My Grandmother has 3-4 dehydrators in her basement, if I could only get my hands on one of hers! I know she has at least two Excalibur's, lol! Of course, the food I remember her dehydrating most from my childhood is Bananas and they are off my food list for now and most likely ever, they are way too carby! But, I have Blueberry and Raspberry bushes going this Spring...I'm almost dying to try dehydrated Raspberries in February! If I get any this year, lol!
Also on my list of "wants"...
An Egg Cooker, any will do,

this one

by Cuisinart is pretty to look at though...

An Electric Fondue Pot! Yep, totally 70's...and we don't even have people over hardly ever, let alone to share dipped food with! But, I really want to make my Mac & Cheese sauce one of these days, and have veggies, meats, and bits of Oopsie Rolls ready to dip in to it! Cuisinart has

a pretty one

...but again, I'm good with the cheaper versions too!

An Espresso machine! Who doesn't want one of these ":bad boys" of the coffee world sitting, just waiting to greet them each morning?!? What could be better you ask? How about

a programmable one

? BAM! Yes, please!

Another coffee related want of mine...a French Press...pop in the grounds, add hot water, wait and pour out the nummy brown nectar I like to call Breakfast! No link to drool over for this one, but they're all the same, glass with a metal handle/frame thingy...not usually cheap, especially if you're like me and want an 8-cup one at minimum! But, World Market has them on sale occasionally.

A food processor! This one is almost an "I need"...so many things require a food processor to make these days! I do have a "food chopper", but it just isn't the same, for one, it only holds a maximum of 1.5 cups! Ever tried making a recipe for low carb chicken breading in something that small? A small batch of chicken requires about 2 cups as the recipe provides! So, I either have to "process" each ingredient separately, or do the best I can to accurately measure each portion of the recipe! It isn't pretty, I'll tell you that!

This one

is "okay", but this is an appliance that you really should sink some good money into!

Kitchen Aide Stand Mixer...I've been saving for this for a long time and still don't have one! I want

this one

...that's why I don't have it yet, lol! MSRP on it is $499.99! Of course, you really need to get all the accessories too...this is why they appear on so many wedding registries! I have yet to decide on what color I want though...so many to choose from! My Mother had one when I was a kid...I learned to bake using one of these bad boys! I kinda like the copper color in the top left corner right now...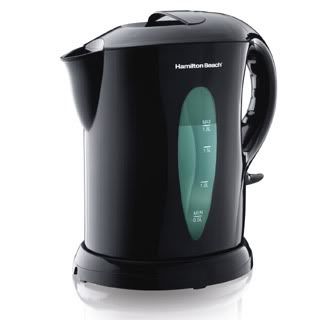 This one isn't a want...it's an "I have"! Electric kettles are the way to go if you have a glass top stove (which I do) and don't already own a tea kettle! We had one, but it had a short cord and it was a pain in the rear! While visiting my mother, I saw she had found a cordless unit on clearance for under $10! Well, I must have one of those I declared and off to the store we dashed! Turns out, the manufacturer had actually lowered the price of said unit and WalMart was just using the temporary missing correct price tags to make a few quick bucks...they are now $9.84 all the time! Mine is white and I forget the brand name, but it was dirt cheap and holds over 5 cups of water! Also, from full (max line) it only took 5 minutes to come to a complete boil! It even gets better than that! When it boils, it beeps, and shuts itself off! Yeah! My old one was attached to the short umbilical cord, never shut itself off and was a pain in my rear anytime I wanted hot water fast!
This one
is very similar in size and shape, looks a little "fancier"though.
Okay, enough day dreaming, I need to get dinner cooked!