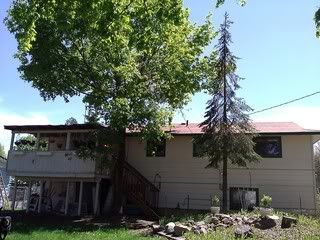 Okay, technically it is Spring Gardening, but I will continue it throughout the Summer! I had behaved myself this Spring and stayed away from the Strawberry plants as well as the Raspberry & Blackberry plants I really wanted when I was shopping (I did pick up a pair of Top hat Blueberry bushes though). Much to my surprise, while I was out of town my other half called me with an offer for free strawberry plants! This was more shocking due to the fact that he doesn't even like Strawberries! I, of course, jumped at the chance for a few plants and went happily about my day visiting my family after driving my Mother back to Central Oregon last Thursday (I helped her clean the houses she cleans every Friday). A few hours later (maybe only 30 minutes), I got another call from my other half wanting to know if I wanted any Raspberries! Does this guy know me or what? Lol!
When I arrived home on Saturday, there was not a couple of plants (like I was expecting) but a potting soil bag full of them (one layer across the short end, but about 15 plants)! Today, I got the Strawberries moved into a planter (a small Strawberry planter that has 4 side holes) and it is now residing on my back deck. I have the Strawberries on a plant dolly thing so I can move it around with the sun, we'll see how they do...I may move the whole planter down to the hill where the Blueberries are right now as well!
My Raspberries arrived today and are also in soil bags (2 large starters, each in their own small soil bag)! I can't wait to get them in the ground, but they will have to wait another day, I hammered so many staple/nails today that I can hardly use my right hand! But, more on that later in another post...
I did go around the other day and check on my starts that I planted last Wednesday...a week later and while everything is still alive...nothing is really thriving. I have an ant problem that I don't know how to solve safely with the chickens around. Last year, I just coated everything in a nice thick layer of organic pest control! What is doing well (finally) this year, is my Rhubarb! The Spring of 2007 I dug it up and moved it to large planters in preparation of our move to Spokane at the end of that summer. They never did well in the planters, but they survived. Finally, mid-Summer 2009, I got them in the ground! They did okay last summer, but never got large enough to pick and/or eat. This year though, I already have a few stalks big enough to pick! I am so excited to have my Rhubarb back! I love making fresh Rhubarb stuff! Though, being on a low carb diet now, no more Rhubarb cake for me! For anyone interested...
Rhubarb Cake
Enough cut up Rhubarb to cover the bottom of your cake pan (I used a 9x13 rectangular glass pan)
Sugar (can sub in non-sugar alternatives, I have used Splenda...but I would suggest using the real thing here)
Cinnamon
Cake Mix (My personal favorite is the French Vanilla one, but any of the White/Yellow ones are good, my Mother likes using the Strawberry cake mix)
Put down a layer of Rhubarb, sprinkle a good amount of sugar over the top and then a layer of Cinnamon, you could mix the two and just sprinkle cinnamon sugar, but I find I get too much or not enough of one of the ingredients doing it that way. This is really a "to taste" recipe...I love the tart taste from the Rhubarb and the Cinnamon can overwhelm that easily. Top with cake mix (having followed directions on the box) and then sprinkle the top with Cinnamon and Sugar.
Simple recipe...I may try this again this year using the recipe I modified into a basic Vanilla cake (original was a Gingerbread Cake/loaf thing). I'll have to "top" it with the Rhubarb though and let them sink through the batter. I'll let you know how it turns out!
I have yet to get a decent set up on the deck for all my hanging baskets this year! I have so many that I'm having to rethink and rework my watering system yet again! I do have a few more recent additions that I purchased at Fred Meyer over the last few weeks...I bought a Pineapple Sage! It's a Sage that smells just like a Pineapple! I can't wait to give it a try in cooking! I'm going to try to invent some sort of "Hawaiian" Salad dressing/vinaigrette with it. The ideas are still flowing on just how to do that, but I'm going to bet I use Coconut Da Vinci's coffee syrup in it, lol. I also picked up two Ivory colored Bell Pepper plants (I broke the first plant just above the first leaf set putting it in a planter). This week I also picked up some new flowers, Fred Meyer has 4-pack pony packs on sale at the store near our house for $0.79 this week! Not the best deal I've seen, my Mother got singles of the same plants at one closer to her house for $0.10 each! But, it is the best price I've seen in my area! I got a pack of Purple variegated Alyssum
If you look really hard at the top photo, you can see some of my hanging baskets where they are currently residing (still need to move a few around and get the watering system up and running into the planters! The two largish planter off on the hill to the right are the Blueberries (Raspberries are going to the right of that hill as soon as I get out there to dig up the dirt a bit)! In the bottom left hand corner, you can even see Rosie! She had just caught sight of me sitting down for a minute and was on her way for a cuddle and a pat. Really, she was trying to get me to let her back in the house...that dog loves being inside! I need to cut a limb out of that big tree by the house, it snapped in January/February, but is still connected enough to produce foliage and it's blocking the sun to my baskets! Anyone feeling brave enough to climb out on a half rotted deck railing and get on the roof of it (also rotted through in a few spots) to reach that thing? It's going to cost us a good bit of change to call the tree guy out...I wonder if he'd do it for free since he gave us a 5 year guarantee on it 2 Octobers ago...lol. That's what we get for working with an Arborist I suppose. I'll look his number up this week or next, the branch is just too high up for me to handle alone.