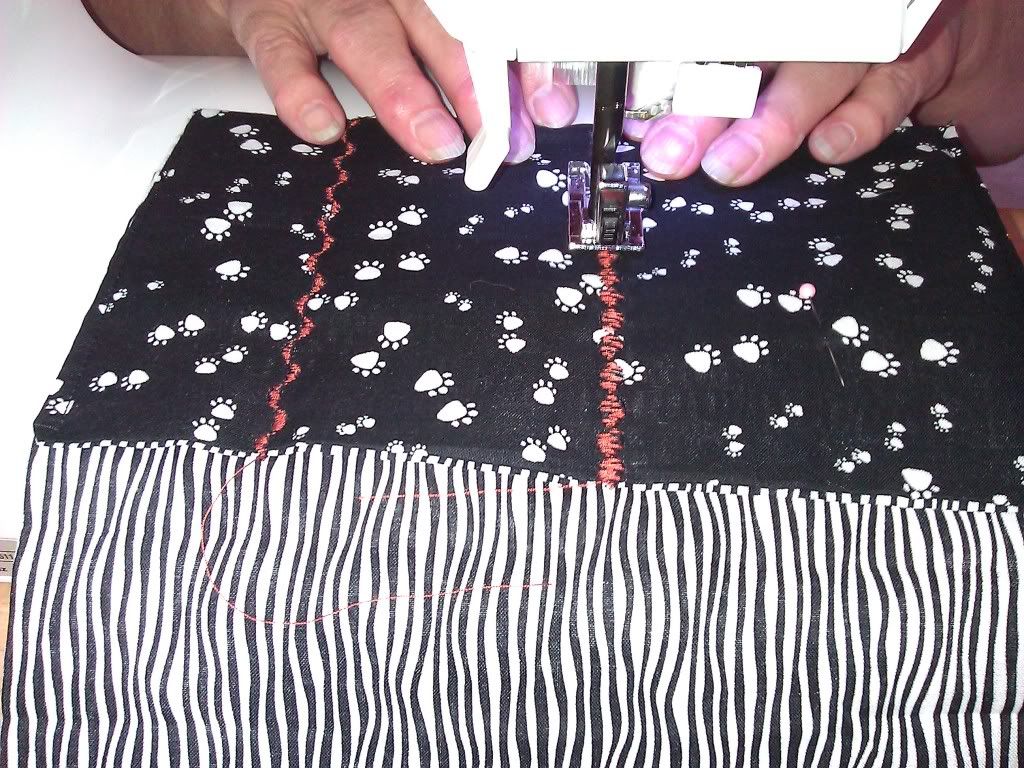 It's been a week or so since I had my party...well, more of a quiet afternoon at home with a sewing machine and my Mom for company, but anywho. It was a bad weekend for any sort of get together in my (oh so humble) opinion! Mother's Day was on Sunday and my party (along with the other two parties held in Spokane) were all on Saturday. It probably doesn't help that I really don't have any "friends" in the area...acquaintances, yes, but friends are hard to make as an adult! Also, I'm the only person I know in the area that sews, lol, or has any interest in it at all. Yup, we live in a truly technical age. None the less, my party of two had a great time! The fabric that was sent for use at the party is this god awful teal with pink flowers...4 yards of the stuff! Needless to say, we opted to go get other patterns to use, lol. My Mother chose black and white prints for her "party project", I really like the looks of it! We used black thread on the back (which when rolled up is the visible side) and a red/rusty thread for the interior to help showcase some of the decorative stitches she made.
The party project instructions failed to state how big the starting fabric should be cut to, so we improvised a little! We found a great deal on Fat Quarters (18"x22" cuts of fabric) and ended up cutting those in half to create the project (using 18"x11" rectangles of fabric), making the end result roughly the same size as the one I made in the class I has to learn how to use the new machine. The larger pocket in my Mom's finished project was designed to hold her glasses (she looses them often) and the other pockets can hold her sunglasses attachment, a cleaning cloth, and a little spray bottle of cleaner. But, when all was said and done, she left it here for me, lol.
Along with the party project, we also made a round jewelry bag to match the rectangular one! Using the other halves of the Fat Quarter, we cut out four rounds of fabric (in two sizes) and got to stitching them shut. We had a pouch that we were copying, so this one isn't perfectly round. I later went out and bought myself a set of circular cutting forms (I forget what they're really called) so that I can make more of these as gifts in the future. I think it turned out really cute! When we got to stitching the two circles together to form the pockets (6 in all), we added a bit of Cotton Ball to pad the center (the one we were copying from has some sort of batting stuffed in the center).
So, that's what we did! It took us roughly 8 hours to do it, but that included going to the fabric store, going to WalMart when we realized we forgot to get ribbon, having Dinner, sewing two projects (although small), going back to Joann's to get a replacement machine (the first one stopped working!), and having a really good time! A few days later, we went back to Joann's and I bought the sewing machine! I can't tell you how nice it is to own a sewing machine that is younger than I am! My "old" machine, also a Singer, is downstairs in the sewing table (big honking piece of furniture from the early 1960's) still...I don't think the new one will be able to go in there. The old machine was my Great-Aunt Polly's sewing machine and she gave it to me just before she past away several years ago (I actually took it home after her funeral). I doubt I will ever get rid of it, at least for now! My plan, once we get our offices moved downstairs, is to turn my current office into a guest bedroom/sewing room. The new Singer will sit on top of the the old Singer, the table is a great height and I suspect I can find a nice sized board to cover the old machine so that I can open up the table to continue using it. I may even talk my Mother out of her old Singer (an original Singer, first one they made that was electric!) to use as a nightstand in the guest room...but that will take a bit more talking, lol. She has an old treadle Singer that she offered me, and while I would love to use it as a cabinet or table somewhere, the wood is completely destroyed and I just don't have the means to fix it myself.
More of these little projects to come as I gear up for the Holidays! We bought 15 (or so) of the Fat Quarters in all sorts of colors! They were on sale for $0.99 each (half off) and were a lot cheaper than the rolls of fabric at Hancock's Fabric! We did buy some fleece and worked on a separate project a few days later, but more on that much later! I will say, I made my first ever (completed) piece of clothing though!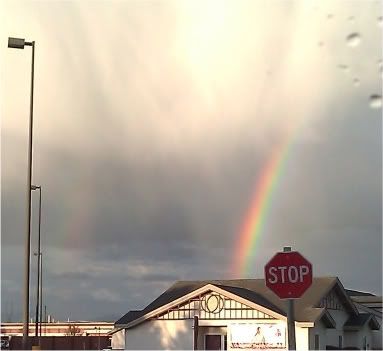 While out for dinner that Saturday, we saw a double rainbow(!) that I tried to capture while my other half was busy not stopping the car (like I had asked him to do). Not uncommon, but very pretty none the less! The "double" is to the left of the bright one, but to the right of the lamp post...it's pretty faint.