Those green kid's chairs are a find I got at Winco for $3.48 a chair! They aren't the greatest of kid's chairs, but for the price, they should last at least through this summer! I did get all three boys to sit (sort of) still after the game though... Of course, then I got them riled up by having them holler things like "cheesecake!", "Monkey Butts!", and things like that while I snapped away trying to get a good photo of all three!
Nephew #1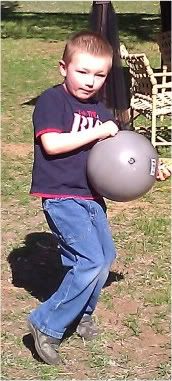 Nephew #2
Nephew #2 did eventually get his ball back for his older brother's "store" though and went about trying to kick it into the swimming pool (that has yet to be cleaned and filled this year)!
And in a rare moment alone while visiting...a wild rabbit came over for a visit with me! These little guys (not so little in this case since it was a full grown one) are all over the place! They kept my cats well fed when I was a kid, lol! This rabbit though was safe from any kitties that day though, he hopped off to the realative safety of behind the play structure!