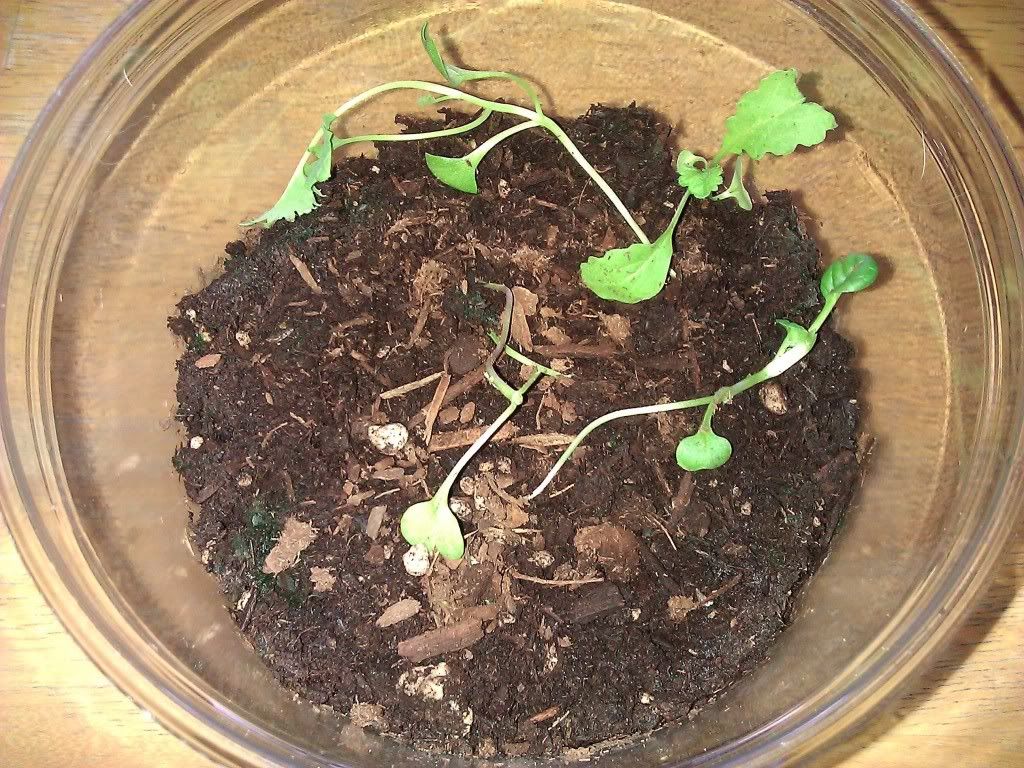 From my "starter garden"...what is left of my Salad Mix! Apparently the cats clued the dog in that there was a tasty salad growing on the windowsill... I went out to look down on my starts yesterday morning only to see this planter glaring back at me! I have been fighting the cats away from most of my veggies and flowers since they sprouted (the darned cats ate all of my Sweet Peas and half of my Morning Glories)! This little tub was nearly full of half grown salad mix! Now I have to start over...sigh.
We haven't had any sort of pizza in about 2 months (sometimes we buy a take & bake and just eat the toppings, I make a low carb crust, have it on low carb flat bread, or sometimes we just melt pizza toppings in a bowl)! So, last night, I made a pizza crust out of Cauliflower and Cheese using
this recipe
! Her Oopsie rolls are awesome too! I haven't been able to perfect this crust though...not in large pizza form anyway, I have to double the batch to get it to fill my 12" pizza pan (which means using an entire bag of frozen Cauliflower), but there was enough leftover this time to make 5 "mini" pizzas using my Muffin Top Pan! The mini crusts turned out great, after about 10 minutes in the oven, I flipped them over for 5 minutes, flipped them back over and topped with Garlic & Herb Pasta Sauce (5g carbs per serving...didn't use a whole serving on all of dinner), lightly, 3 slices of Pepperoni (the new Pepperoni Minis would have worked even better, but I have finished that bag off snacking on them), a pinch of cheese under and over the Pepperonis, then back in the oven to melt the cheese! The large pizza crust stuck to the pan, even though it was heavily greased and came out a little soggy again. I think we'll stick to the mini pizzas using this recipe from now on! I didn't using the spices called for in the recipe either...I sprinkled a little Italian Seasoning over the crusts before they went in the oven (my sauce had a ton of herbs and flavor in it too).
I really like Olives on my pizza (my other half does not), there are three olives that I sliced on there, so a little over half a serving! And you can tell who did the toppings on the little ones versus the big one...I loaded up the meat on the little ones, my other half decided not to listen when I told him I was not making him his own pizza...so he topped this one like we needed to save the meat for another one, lol.
It all turned out good though...even if we still couldn't pick it up and eat it like it was full of carbs! The little ones you could pick up and eat as finger food.