I am actually traveling tomorrow through Friday to bring my Mother back to my house for another visit, this one sans anyone under 4 feet tall! It isn't her Mother's Day "gift" per say...but it kind of is, lol.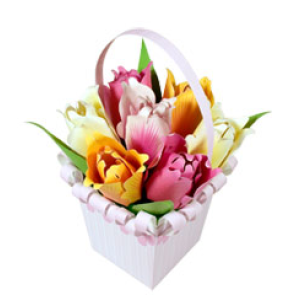 I was browsing the wide world of the internet this morning and decided to Google "paper crafts"...you know, where you can cut things out, glue them together, and make pretty things? In my search, I stumbled across Cannon's (the printer company, not the military kind)
Creative Park
. I love the look of the paper craft flowers! I have actually downloaded all of the flowers they had to offer and now have a folder on my desktop just waiting for me to print out and put together some of these awesome looking flowers (singles, bouquets, and even vases)!
My favorite for Mother's Day though, would have to be the
Tulip Bouquet
(pictured). How pretty is that? The pattern (all the pieces you'll need) is 29 pages and the instructions are another 3 pages, so the cost of ink for your particular printer and the paper you use (plain white will work) is all it really costs besides what you think your time is worth... They also have some of the cutest cards I've seen in a while, I hate buying cards...but really like making my own. The "mini" cards even come with an envelope!