Wednesday evening I finally made it to one of the Volunteer Orientations for SpokAnimal! I had assumed (yeah, I know...) that since the application stated they would be contacting me, that they would, in deed, be contacting me prior to going to one! I filled out my application a while ago and this was the third of fourth class since then. I finally called, or more accurately, posted to their Facebook page and was told I could just show up to the next class! I was a little disappointed in a few things, first off; they are not a no kill shelter and do euthanize if they need the space, the animal has been there "too long" or an animal is too sick or "behaves poorly". The last two are pretty typical of all shelters, even the "no kill" I volunteered at in Bend occasionally had to euthanize for illness, they did not euthanize an animal because it behaved poorly in a stressful situation though. Secondly, it would appear from the orientation that all volunteers do is come hang out with whatever dog/cat they feel like and come and go as they please. I didn't get a chance to ask if volunteers help out in the clinic as well, but the gal doing it wasn't the volunteer coordinator, she is on vacation. So, as soon as I get my email telling me I passed the background check (I'll be super surprised if I don't!), I can go play with as many cats & dogs as I want to, any time of the day (assuming they're open) or week! I plan to spend a few hours, most days of the week there. I also put in an application today to volunteer at the Humane Society, which is closer to my house. SHS is definitely more structured than SpokAnimal as far as their volunteers go! There are actual "job title" & responsibilities, as well as scheduled shifts. This is more of what I'm used to! For instance, their "Clinic volunteers" fall into one of three "titles"; Level One - Instruments (cleaning surgical implements...done that before!), Level Two - Pack & Prep (Packing said implements into surgical "packs" used for spays/neuters...done that too!), and Level Three - Recovery (Monitoring animals as they wake up from surgery...I started here when I first went to BSNP!). From what I can tell, everyone starts out at "level one" and you have to work in that position through a minimum of 5 hours at SHS to move on, also a staff member has to agree you are ready to move on. At BSNP, I started in recovery and toward the end of my time there (we moved to Spokane), I was cleaning and making packs on the weekends so they had all they needed to start Monday morning. Cleaning is pretty much just letting them soak in the cleaner, using a little specialized soap to scrub of the stubborn spots (we used an old toothbrush), rinsing them and letting them air dry. We kept all of our kits separated and together, so repacking was a cinch, you just laid the set on their "drop cloth" and put in clean gauze. I would guess, since it is someone else's job here, they aren't kept together like that though! I applied for both Clinic and the K9 Crew... The K9 Crew also has three levels, "Woof Walker" (basic dog walker and treat giver, with the occasional bath thrown in), "Dog Deputies" (Dog walker (for the harder to handle pups), Canine-ality assessment giver, bather, & play grouper), and lastly "Canine Coaches" ("advanced" dog walker, work on manners & behavior issues to make dogs more adoptable). I will have to ask when they call me (their page says they will call to set up an orientation and work shift with a mentor for training) if I can get involved in more than one "group"...I'd really like to also work with the cats, at the front desk, and even the outreach program! But, I do understand them wanting people to focus on one area at a time for training purposes!
Holy run on paragraph! But now, to the fun stuff! I went to Pet Smart today (on Newport Highway) and played with some of the adoptables that are there and I brought pictures home to share!
Meet "Dora"! She is a 4 year old little girl who is great with kids! Also, she was super lovie! She was hiding in the back corner when we first got in the room, but as soon as my other half approached the cage, she was all about getting the loves! Dora is available through SHS and is listed
here
. Her card says "I'm a sweet lady who likes to talk. I'm an independent lady who would like a forever home." She is more than sweet! She's also got very soft fur, more like soft kitten fur than "hard" cat fur. $25 takes this sweety home.
Next up is the kittens...three of them here today! Pictured is "Hogan", but all three looked identical. These are the hardest kitties to find homes for, just because of their color! Sweet as can be though and very playful! They are roughly 2 months old and full of energy! These guys are available through SpokAnimal for a $60 adoption fee.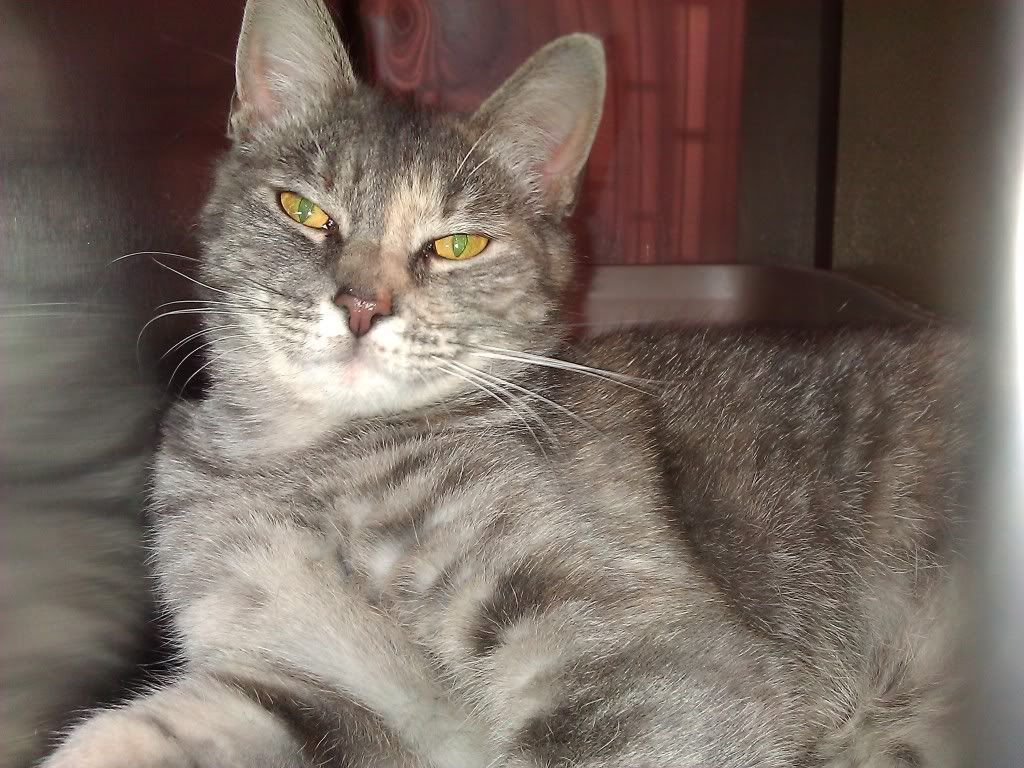 Another in the SHS lineup today was "Savannah", she's a one cat kinda girl and doesn't play well with other cats, but she loves to be petted! I gave her lots of pets and scratches through her cage bars after lunch today! $60 adoption fee applies here, she's only 10 months old! Her card calls her a "Torbie", I've always called the coloring a "muted torty (tortoise)", very light coloring mostly a pale grey...
Home Alone...Gah! ;)
". And "Dibby" too... I tried keeping track of all of my foster kitties in Bend, but because I hated doing the adoptions (no one was good enough for little fluff balls), I usually only got it second hand...I had three orange Tabby's, the boys went together to a family and the little girl went to a pet food store owner and she spends her days lounging in the shop and gets to visit her brothers when they come in with their new family (everyone lives in the same neighborhood)! I also had a kitty we named "Cloud" that was a DLH (Domestic Long Hair) that was dark grey, he is living with a judge! One of my fosters is also currently sleeping on my bed, lol. Baby started out as a foster kitty, he found his forever home first though! I really don't have anything invested in the cats, but it's nice to know they are successful in their stays in those tiny metal boxes none the less!