Previous Project
I have such a hard time getting motivated enough to get out of the house when my other half is away! Mainly because I am more than happy to sit at home and enjoy the activities I don't typically do while he's here. Yesterday, I finished a crochet project I've been working on for the last month and a half or so! I started it 3 trips ago (his trips out of town) and have only worked on it when he isn't home, save for last week, I was getting so close to the end and we just bought the 7-disk Harry Potter (years 1-6) boxed set on Blue-Ray! So, I spent several nights watching a HP movie and crocheting. After one last full day and an evening of my other half being gone...it's done! One more "baby project" off my plate! I may even give this one to the intended baby, lol. The last one I made didn't get finished until the "intended baby" was almost 4 years old! Needless to say, I did not give it to that "baby"...I thought about giving it to his younger brother, but it still wasn't finished when he was born either! Then, the other side of the family had a baby...but I didn't feel the style of the blanket fit very well with the parent's style. Okay, so I'm picky about where I send items I have spent that much time on! Said blanket is still up in my closet...but I'm a little attached to it now, I don't think I'll give that one away...even if I never get a chance to use it! This project had a much simpler design though...it worked up pretty fast! In a future post (6 months or so from now), I'll put up photos of all the projects I've been working on, lol. Can't give away the surprise this early!
But, back to today's "list"! I need....
Dog food
Chicken feed--not at same location of the dog's food
Coffee syrup--I heard a rumor they are on sale at Cash & Carry
Cream--Heavy with a side of whipping, please!
Dirt--Yep, I need dirt! The spot I had picked out for my new Raspberry bushes is not going to work! The dirt is so full of weed and tree roots, that I can't even get a shovel into it! New plan of attack is to fill the old pond hole (I pulled the liner out a few years ago) with soil and put the Raspberries there, on the side of the "hill" that I'd eventually like to turn into my garden plot, but as of right now is full of tree stumps (and my Blueberry pots). Three bags should do me...
Prescription--Someone rewrote my Test Strip script so that I now only get one box (200) for a month! However...even the way it is written, they only provide a 25-day supply instead of the 30-day supply! Yup, cheaper for the Pharmacy to only give me one box of 4 vials and ignore the need for a minimum of 5 vials! The script used to read "test 4-6 times daily"...someone has chopped off the "to 6" part! Of course, I am also testing 5-7 times a day right now due to feeling "off" and having a few lows...meaning I am running through the strips much faster than intended! All it really means for me is more trips to the Pharmacy though, our insurance covers 100% of the cost of strips, they make up for it on my Insulins though ($65 co-pay).
Connector thingies for my Auto Watering System (drip system for the flowers)
I know I'm forgetting something...but it's not the Bacon! I have 2 packages in my Refrigerator right now and a few more in the Freezer!
Being Diabetic is expensive! I was just peeking at my "spending report" for my insurance... For my "plan year" (July 1-June 30), I have spent $1237 (this is our out of pocket cost), but the "Cost of all Services" was $13,935! That counts all of my Vision, Dental, Medical, & Prescription costs, we saved 91%! Of that $13k though, $4,005 is applied discounts (money the insurance company refuses to pay or allow them to charge me for...otherwise known as the "padding on the bill" that folks without insurance get stuck paying). I am more than happy to day that I saved $12,698 so far in my plan year!
And some people wonder why we haven't come up worth the $700 I need to get an insulin pump yet...that $700 is out share of the "start up" costs of buying a pump and all the supplies that go with said pump. We start with a $500 deductible, and our share of everything else is 20%...we have awesome insurance! I want an
OmniPod
...no tubes! And how techie is this thing?!
Just look at the comparison to two of the more popular pumps! I wanted a Ping (by One Touch) before I found this little guy...really the only thing that unnerves me is switching brands. I have used a One Touch meter since 1990! Yes, I had (and still do have somewhere) an "original" One Touch meter! Giant dark grey thing with a hinged door over the test strip (which took 10 times as much blood to get a good reading) and a battery that at the time had to be special ordered! N's or J's, I forget which, I have had meters that took both!
OmniPod
System

OneTouch®
Ping™

Minimed
Paradigm®

Tubeless


No tubes to get in your way or interfere with daily life

Yes

No

No

Truly continuous insulin delivery


No need to disconnect for showering, swimming, other activities

Yes

No

No

Auto insertion


Insert with the push of a button;

Yes

No

No

Built-in-Blood Glucose Meter


One less thing to carry and manage

Yes

Yes

No

Integrated food library


Makes carb counting and bolus calculation easier

Yes

Yes

No

Suggested bolus calculation using integrated BG reading


Makes bolus calculation quick and easy

Yes

Yes

Yes

Small, lightweight pump

Yes

No

No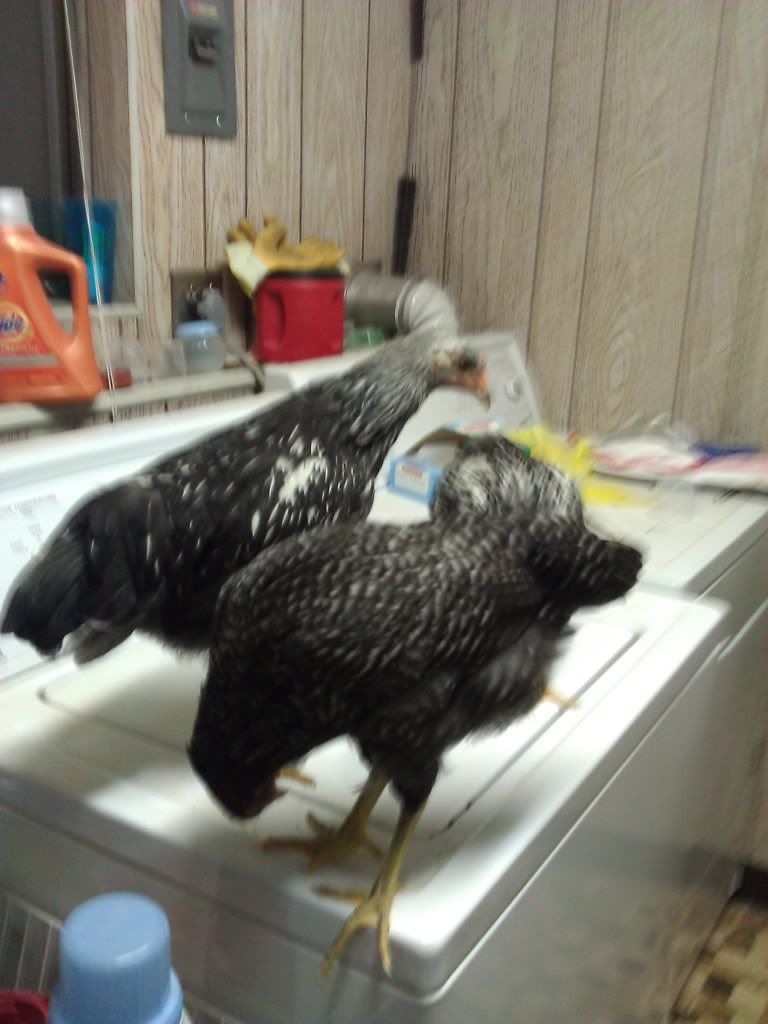 The chickens...still no real decent photos of them, one or more of them are always moving when I take one! They are getting so big...sigh. I can tell there is a definite weight difference amoungst them at this point and only Gerty (my BR) still "likes" to be picked up, Henri and Clyde squirm and through a huge fit, lol. None the less, I keep trying to get a good photo... I changed out their brooder yesterday evening, they got sand this time instead of the pine shavings. I'm not sure if they're tipping the waterer or they are just producing a large amount of humidity just by breathing and pooping, but the shavings seemed "damp" yesterday. I still had roughly 3/4 of the bag of play sand and they have lost the sandbox/skillet because they were just emptying it into the brooder anyway! So, when it was time to refill the brooder, I dumped in the sand! The girls had a grand time dust bathing all over the place last night! Also, I've added a small dish if the chick grit. I'm not sure if I just keep happening to be in there right after Clyde's meal time or if there is an issue, but ever since their last trip outside, she seems to always have a full crop! She is the heaviest of my girls right now, so I'm not too terribly worried but will be keeping an eye on here none the less! They had been upgraded from chick feeder to a 3 pound container last week, but since the container is bigger, it was hanging lower and so we've had a little issue with them throwing food everywhere! Also, they have figured out how to get the nut to unscrew and dump the entire thing (I'm not sure if this was a happy accident or if they planned it)! So, now I have the "food holder" part off and just the base attached to the little pole that connects everything. I have it attached to a chain and can raise the dish higher...no dumped food this morning! I really need to get the run built though! My other half comes home just in time for a 4-day weekend...I'm going to have to strong arm him into helping get the run up then! Maybe I'll make him a cheesecake as a reward, complete with Caramel and Chocolate sauce!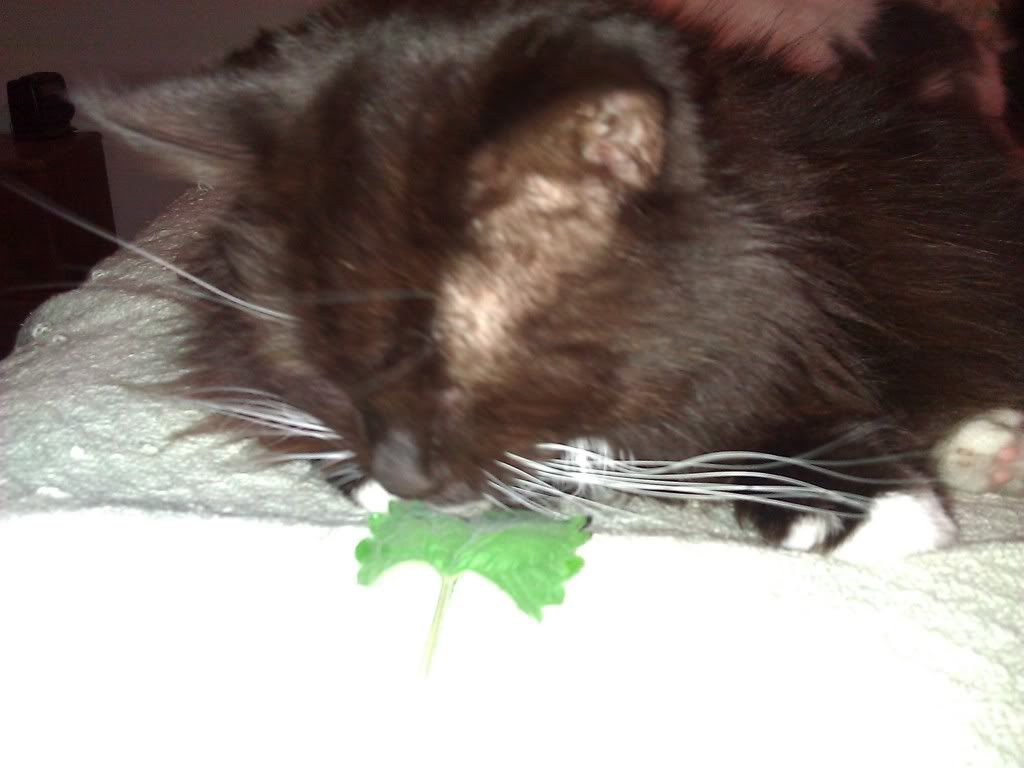 And the cats! Last night, I pulled a couple of larger leaves off this year's Catnip plant and gave one to each of the cats. They LOVE this stuff! Unlike the dried stuff, which they both greedily eat, they just gnaw on the fresh ones and cuddle with them. Actually, I still need to go collect the remains of the leaves from atop my bed, they both slept with the Catnip as it wilted into near nothingness! In a few weeks, the plant will be large enough to get a "first harvest" off of and start drying for another fresh supply of dried 'Nip! Stinks to high heaven in the house while drying, but the cats love it, lol. I really need a food dehydrator...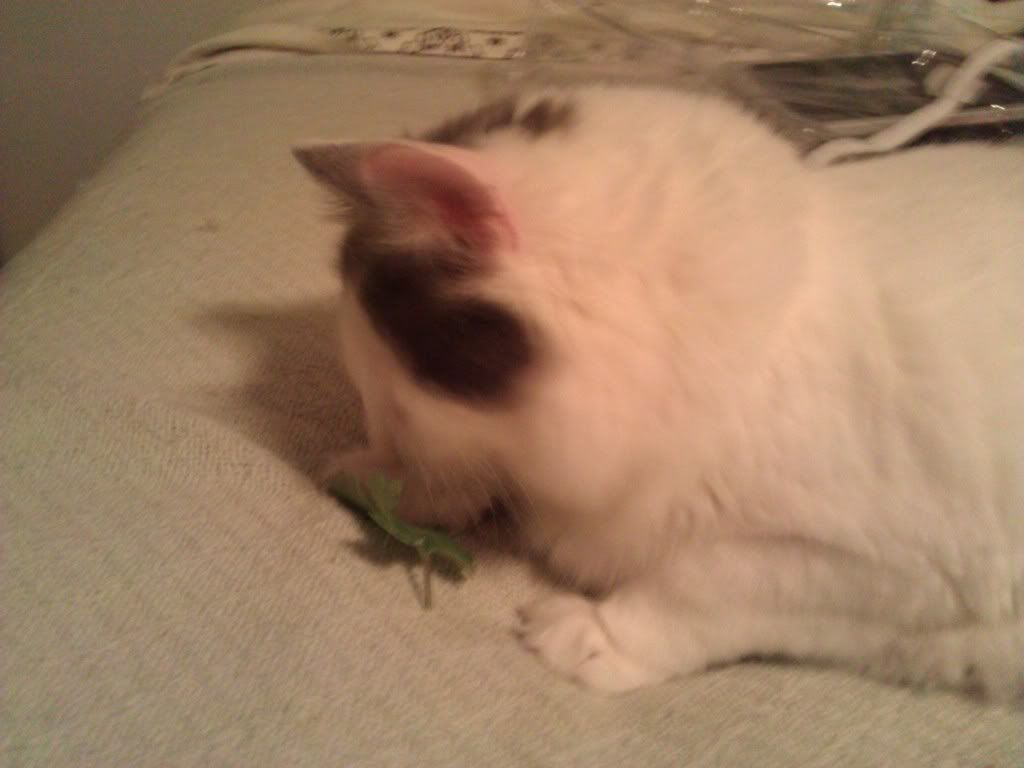 Baby requires his fresh leaves to be torn...less work for him to get to the oils in the leaf, lol. If left untorn, he ignores said leaf until it is prepared "properly"! Frappy though? She is a girl that knows how to get things done! She immediately started chewing on hers!