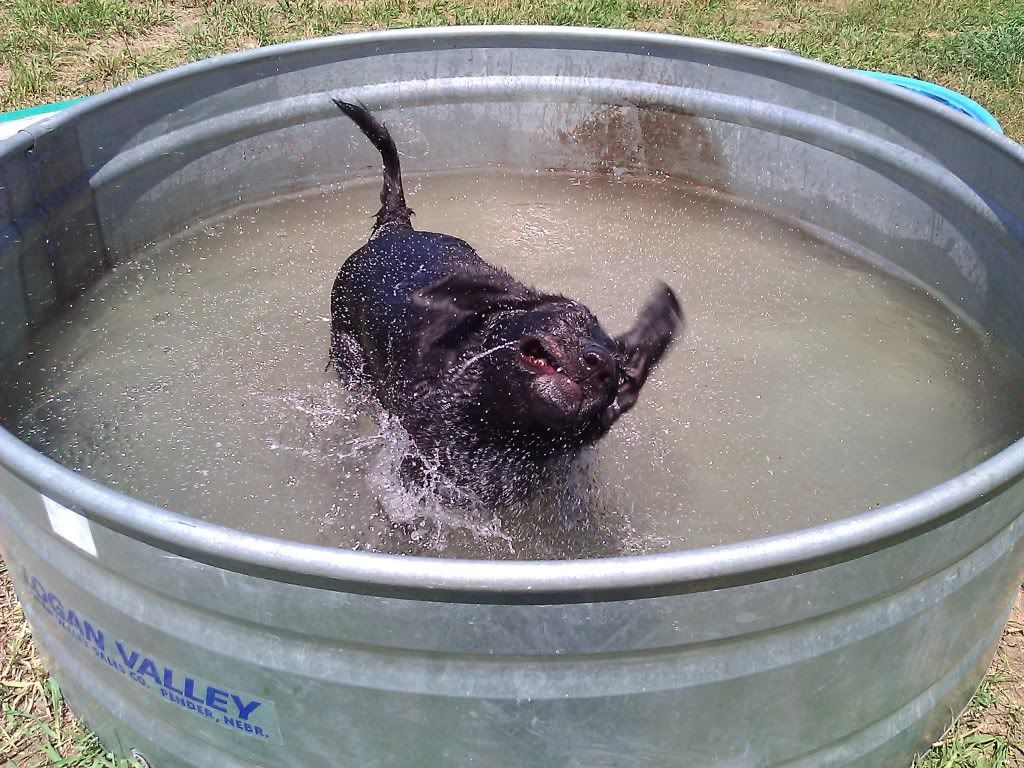 My first "official" day as a Woof Walker was this morning! I can honestly say that I am exhausted, but I hope the dogs are too! In fact, after my taking them for walks, three were taken back out by potential adopters! The first photo is "Chilly", a big Black lab mix! Her "page" on the SHS website is gone, so I can only imagine at this point that she found her forever home today! She absolutely
loved
the big pool in one of the play yards! She jumped right in and started rolling around and playing in the water! She drenched my brand new slip lead and then drug it through the dirt, lol. I am partial to labs, especially black ones..."my" first dog was a black lab mix that I got as a puppy when I was 9 years old. Of course, Rosie is also a Black Lab! Rosie, however, is totally afraid of water and will
not
go outside if it's raining unless it is a dire emergency and then she only ventures to the bottom of the stairs so she can dash back in the house right after doing her business! Rosie will also
not
come in the house if it is snowing...she
loves
the snow!
"Charlie" and "Abby" also got called up for adopter interviews today. "Charlie" is a yellow lab mix who loves to go, go, go while outside! He got a nice long walk this morning, but he really will need a home with someone experienced with what I call the "Lab pull" while out on walks! I have never owned or experienced a Lab that didn't love walks and always wanted to go faster than whoever is on the other end of the lead! My first Lab, Lickorice, did the constant pull! To the point of during the winter, I rigged a harness out of leashes (so it didn't choke her) and would take her for "walks" by sitting on a sled and letting her pull me up and down the snow covered streets! She loved it and I had great fun! Rosie used to be even worse about the pulling, but when she went to "puppy school", the instructor decided to train her on a pinch collar. I'm in love with these collars! But, I don't suggest them for just any dog. For Rosie, she learned quickly that it was uncomfortable to pull on it and now (9-10 years later) I rarely turn the pointy parts toward her, just having it on is enough of a reminder to walk "nice" and leave a slack leash. She walks to the mailbox a lot with me, but its only on the other side of our next door neighbor's yard! "Abby" is a small westie/terrier looking dog....she had two different families come look at her today, the first was going to wait until after they finished their orientation as Kitty Cuddler's this afternoon and the second family I saw had her out for a walk and seemed very smitten with her! I hope to see her cage empty tomorrow morning!
"Dudley" was one of the last dogs I took out today. It was so hot out, that I limited most dog's walk to only 15-20 minutes today, by that time, they were looking for shade and water! "Dudley" sat under a tree in the shade with me for a little while, but he is part hound and really just wanted to wander around and smell all the smells he could smell! Everybody liked my "goody bag" today...I brought cut up hot dog for treats! I think it is awesome that the shelter has a dog trainer to train us to train the dogs! While they wait for their forever homes, they learn simple commands like "sit", "wait", and "leave it". In my experience most of the dogs have learned a few "tricks" too, lol. Most of them that I walked today also knew "down" and "Shake", one even knew "roll over"! That was "Darryl"...he really loved rolling over to have his paw pads massaged! He is one big puppy! "Cody" shared a drink from my water bottle in the shade of another tree too, he was a sweet boy that loves to give kisses, but he tends to get over-excited about them when I was sitting at his level...I had to be careful to keep him out of my face after he shut his mouth as he "kissed" me and caught my lower lip with a tooth. Not a bite, but I did make sure my mentor knew about it and to keep an eye on him. He really is a sweetheart!
I am pooped and now my dog is requesting I spend cuddle time with her! She actually joined me on my bed for a few minutes right after I got home, she never gets up there because it is a big jump for her old bones! We have an extra thick mattress set and we have the whole thing up on bed risers...I almost have to climb to get into it! I'm going back tomorrow morning for another 3 hour shift and then I have "Shelter School" the following weekend for an hour, then I'm going to spend the rest of my time with my nephew...he goes home on the 11th, so this will be his last week here! I plan to spend more "weekday" time there after that though...there were a ton of people there today!