On to the stuff I can talk about here! My birthday is next Friday (Happy birthday to me, happy birthday to me!). Anywho, this will mark a decade since I became legally allowed to drink alcohol...this one is kind of funny to me. For my 21st birthday, my Mother and Sister (who is only 5.5 years behind me) made me a white (maybe it was yellow) cake with pale pink frosting (I think it was Strawberry, but it might have just been food color), covered in toasted coconut (I
love
coconut). Anywho, nothing really special about the cake itself, just a normal, 2-layer round cake, but the special part was the "decoration" on the cake! My mother had gone to the liquor store (located in the local grocery store) and bought (I believe) 21 little bottles of all different kinds of booze! This cake was jam-packed with tiny bottles! One was Seagram's (I won't ever buy that again)...I mixed it with Diet 7up...it made me ill. I know there a little bottle of Crown Royal, but in all honesty, I don't remember drinking it. I am a huge fan of the chocolate liquors...my favorite though is Vermeer! That is one chocolatey drink, served best chilled and straight from the bottle!
Being a "truly" adult child has it advantages...I remember one night while my sister was having a bunch of friends over, we went to the store and bought two mid-sized bottles, one of Vermeer and the other was an Irish Cream, Coraline's (maybe?) I think. We went home, chilled both bottles down and that spent that evening playing cribbage and drinking. We finished off both bottles that night between the two of us! It is the single night that I ever drank in that type of quantity! I'm actually pretty surprised I can remember it in such detail, lol.
The reason I bring up the "drinking stories" is I still have two of those tiny bottles of booze tucked up in the cupboard with the rest of the liquor we still have in the house, a tequila that has gone from a caramel color to nearly clear over the years, and a little blue bottle of Skky Vodka. I'm not sure why I've held onto the Skky for so long, I really like Vodka (mixed with other stuff), but the tequila...ugh, remember up there where I talked about the Seagram's? Same thing here, tequila is
not
my friend!
This year's birthday will be a little different from year's past, first, obviously, I'm low-carbing life. Of course, as I've already mentioned in an earlier post, we are cheating on our diet and going for the $50 per couple Moroccan meal at the Marrakesh! One of the courses is this yummy pastry thing with egg and cinnamon and all sorts of goodies in it! That is most likely all the cheating I'll be doing on the day (the entire dinner, not just that one course), but I could go all out if I wanted to!
In my email this morning I had a varying array of birthday emails from all sorts of places where I have joined their "birthday clubs". I got 15% off at the Godiva store (online or here in town), a free Creation sized ice cream from Cold Stone Creamery, a free Grand Slam from Denny's (this one I might use), a free 12 ounce shake from Arby's, a free Cookie Cake Slice (with drink purchase) from Great American Cookies, and a free scoop of ice cream from Ben & Jerry's along with a $3 off coupon for an ice cream cake! Yep, you can tell I haven't low-carbed it for very long, lol. I may use the Denny's one, but only if I can get the "make your own" grand slam so I can have my meat and egg slam sans all those other icky carbs! Of course, if anyone is in the Spokane area and wants a free ice cream or something...I'd be more than happy to tag along, lol.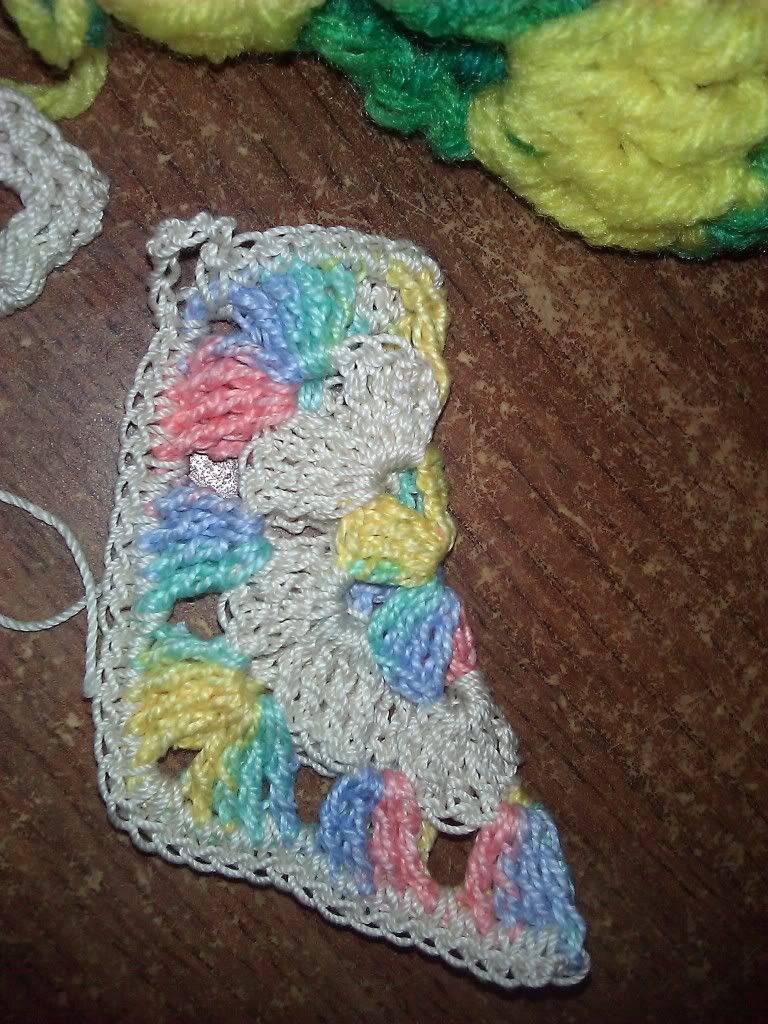 I really like this pattern done in the thread...however, I believe I will shorten the pattern a bit by doing double crochet instead of triples (like these have) and then maybe adding a row or two extra around the outside, these are only 3 rounds, so in DC they will be very tiny! Also, I'll get red and green thread since these are supposed to be Christmas things. My pretty color "5109" is a bit too "springy" for that!
I have also been working on my new knitting skill...I can do a knit stitch with no problem and I can Perl as long as I do the whole row without picking up any extra stitches. I can do a "P,K" pattern as long as I'm super careful about the stitches. I am in the middle of figuring out how to do a cable stitch, but my stitches are just a little too tight for it to be easily done.
Today is going to be a morning at the shelter, possibly a run to the craft store to look for more yarn. Followed by some crafting this afternoon with maybe a load of dishes thrown in for good measure. Then, this weekend and next week my other half is on vacation, so we will be weeding the rest of the backyard and cleaning out the garage! It will be a busy, busy week!