First, I taught myself to knit! Okay, the book and instructional dvd taught me how to knit...but, I have about 3 inches of a shawl now made out of this pretty pale pink yarn I brought home from my cousin's house! This was a "sampler" that I was practicing on. I ripped it out to make the shawl, lol. I knew I might have an issue with my knit being "tight", I crochet pretty tight too out of habit. My normal crochet of choice is doilies and such using crochet thread, that has to be done with a tight stitch or it falls apart! I have managed to pick up a few stitches on my shawl...no idea how! I think I can "fix" it though without having to start over, I'm 18 rows in!
As far as food goes this past week, I've been discouraged with my weight loss after several weeks (3 of them) of my weight climbing! I haven't given up on the diet though, instead I upped the hours I've been volunteering walking dogs! I now go to the Spokane Humane Society twice a week and starting this coming Thursday, I'm going to go volunteer some hours over at Spokanimal (another humane society facility here in town). Also, since I spend multiple hours outside with the dogs, I'm drinking more water while I'm there. This in itself is a feat, I hate the way our water tastes! The downside to living in the city is we have "city water" flowing in our taps. To me, it tastes and smells of the chemicals used to make it "safe" to drink again, yuck! But, I have been taking a 1+ liter bottle with me that's half full of frozen water and then I fill with cold water just before leaving the house, stays cold out in the 90 degree heat! Otherwise, food is pretty normal.
yummy
! We sit in the bar when we can...Red Robin is a very "noisy" place to eat otherwise! So, we over heard someone asking for a bottle of the seasoning salt. Curious at what the carbs were like, I flipped the table bottle around and low and behold, no carbs! The best part about the fries was getting to use this salt...neither of us really "liked" the fries, I don't think, but this stuff is good! Since we knew one of our burgers was going to be free tonight, we asked what they cost...$3! Yep, that bottle in the photo went home with me! I'm going to try my hand at roasting some cauliflower and making it taste kinda sorta like fries, I'm also going to cook with it...Red Robin seasoned Shrimp anyone? After dinner tonight, I made the batch of BBQ Sauce for tomorrow's dinner, no excuses now, just have to warm it all up tomorrow! I may make some Oopsie rolls so we can make pulled pork sandwiches, but I really haven't had any luck making those yet...I think I need to let them bake longer or something.
I mentioned earlier that I upped the time I'm spending at the shelter, I just can't get enough of these sweet pups! The cat room, well that's another story! Not that I don't like the cats...I actually am planning on doing the majority of my volunteering at Spokanimal in the cat room, but the room itself is the issue for me. There are two cat rooms at SHS, one is full of cages, each cat in their own "cell". The second room (currently called Malibu Beach) is a large open room where the cats are free to roam about and interact with each other, cats earn a stay at the beach a few ways, first are the cats that came in sick and had to spend time in both isolation rooms (not open to the public and most volunteers are even banned from accessing them), once they have fought through their illness, they get to spend some time relaxing and getting a good stretch-out. Others are brought in from the first cat room if they have been there a while (mini vacation while they look for a forever home). Malibu Beach has lots of shelves in it, this is what I don't like about it! If you kept up with my head injury tally during the construction of the chicken coop (built under the deck with a 5'1" door opening by your's truly who stands 5'6" tall...), you can add another to the tally! I was picking up a kitten to cuddle after my shift last Thursday and stood up while my head was directly under a shelf that was chest height off the ground! My head still hurts!
As for the dogs though, we have been having lots of fun! I like going mid-week when there aren't a whole lot of "other" people running about, it means I can use the play yards without worrying about who is in the yard next to me (we are asked to avoid taking dogs in next to potential adopters because the dogs know us and loose interest in the "new" people quickly). That means lots of time in the pools for the dogs! Not all of them like going in, but they all enjoy the free access to that amount of cool water on a hot day! On Monday I ended up taking 10 dogs for "walks"...which usually translated into running for a play yard, or meandering through the grass peeing on everything we came across (the dogs, not me) and heading straight for one of the three yards, all equipped with small swimming pools and mostly grass where the dogs can go off leash and just run around and play and do "dog things". Last Thursday, it seemed like all of them wanted to play ball, or rather chew them into small pieces...I have never seen a dog demolish a tennis ball so fast!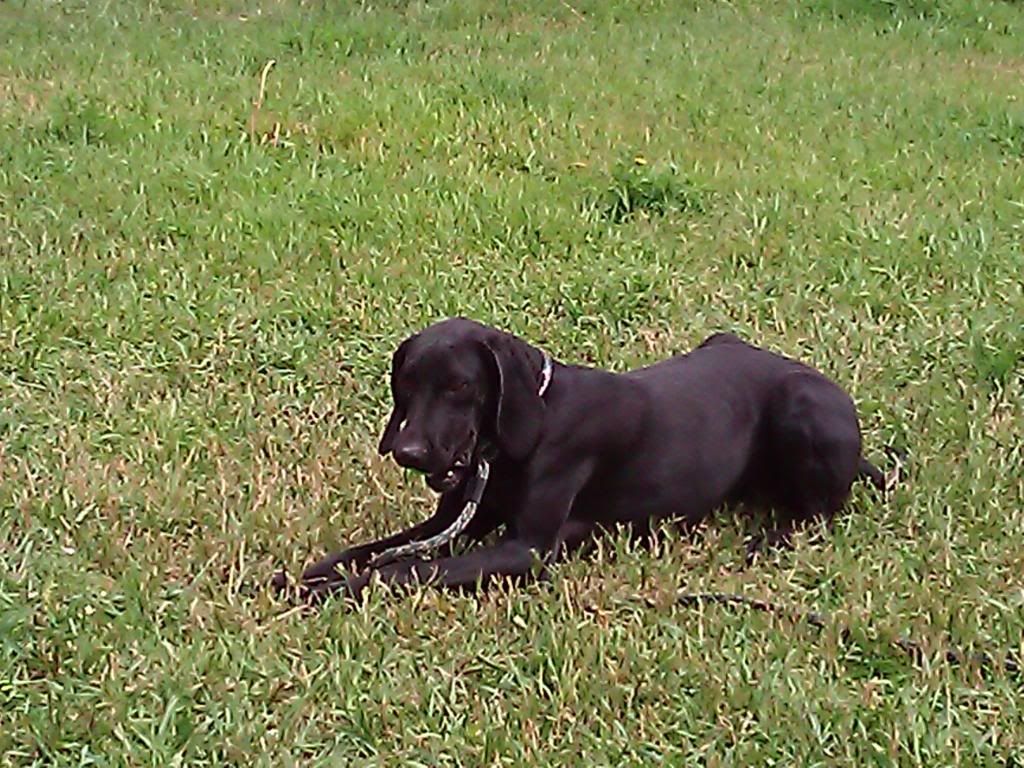 Dudley!
Or a t-shirt for that matter...Dudley, the black lab/hound mix I have posted photos of before
loves
,
loves
,
loves
his tennis ball! He likes playing fetch, but he doesn't really like giving up his ball. I learned that lesson the hard way, first I didn't throw the ball fast enough and he nipped my hand (he missed the ball that was in the hand), the second time (yup, I kept playing with him), he lunged as I brought the ball up to throw and bit down on my shirt! Luckily, it wasn't one of my "good" shirts, it was however, my brand new volunteer shirt that I had only worn twice before Thursday! It is now sporting a big hole and I have a second shirt. He is the sweetest dog ever, so easy to walk! He also has the "typical" hound bark! He spent a good portion of Monday just sitting next to his ball making "hound noises"! Maybe it's just me...but this boy is so sweet! He didn't really want much to do with the water, which reminds me of both of my Black labs (very not typical of a lab)! Between my taking him out on Thursday and again on Monday, nobody took Dudley out of the kennels! Shame on the rest of the volunteers! I hear so many of them say they don't walk the labs "because everyone else is" and if they would actually look at the logs, none of them got walked between my taking them out!
Charley!
Then there's Charley! Charley is most certainly a "typical" lab! He pulled me so fast to get into the play yard! He is no spring chicken either, Charley is roughly 8-9 years old! But, he really loves hanging out in the pool on a hot day! Charley didn't get walked for 10 days, according to the logs, before I took him out last Thursday...after my noting how much he loved the pools, he got a walk at least once a day! He has bloody sores on all 4 paws and his tail is just mangled from spending so much time in a shelter kennel...this sweet old guy really needs a home with a nice soft bed for him to relax on!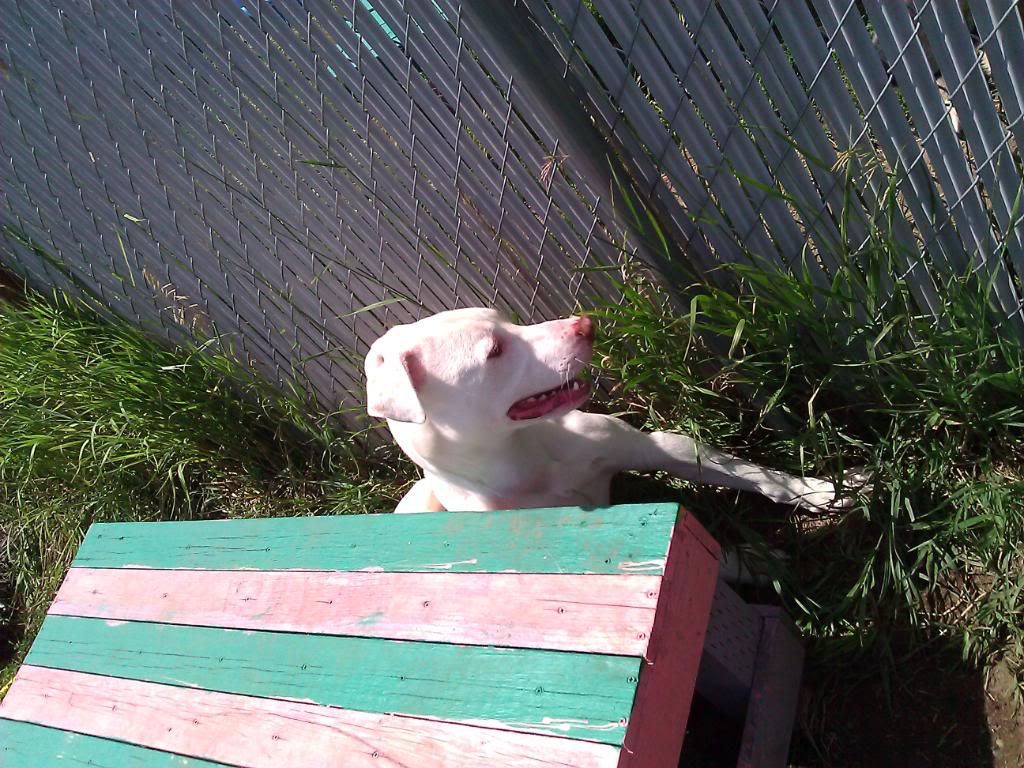 Oso!
The last "dog" photo I have from this week is of "Oso"! Oso is a pit bull terrier mix, super sweet and almost totally white! Oso has a bad case of "happy tail" going too from spending so much time in the kennels. I forget when he got there, but I do know he was born in September 2010 and has spent most of his life living in the shelter kennel! He so, so sweet too! In this photo, he was stretching out against the fence while Buddy was on the other side trying his best to get Oso to play with him! Oso isn't really sure what to make of other dogs, but he loves people! He's still a puppy too!
A few other things yet to note...my birthday, yup, a decade ago (in 10 days) I became old enough to drink alcohol legally! We are going to cheat on the diet for dinner that night, we are going to go to the Marrakesh, a Moroccan restaurant where you sit on pillows on the floor and eat your shared meal with your fingers! I met the owner, a friendly man who is from Egypt during my year at Spokane Falls Community College. We haven't had the opportunity to visit his new location yet, but are really looking forward to it!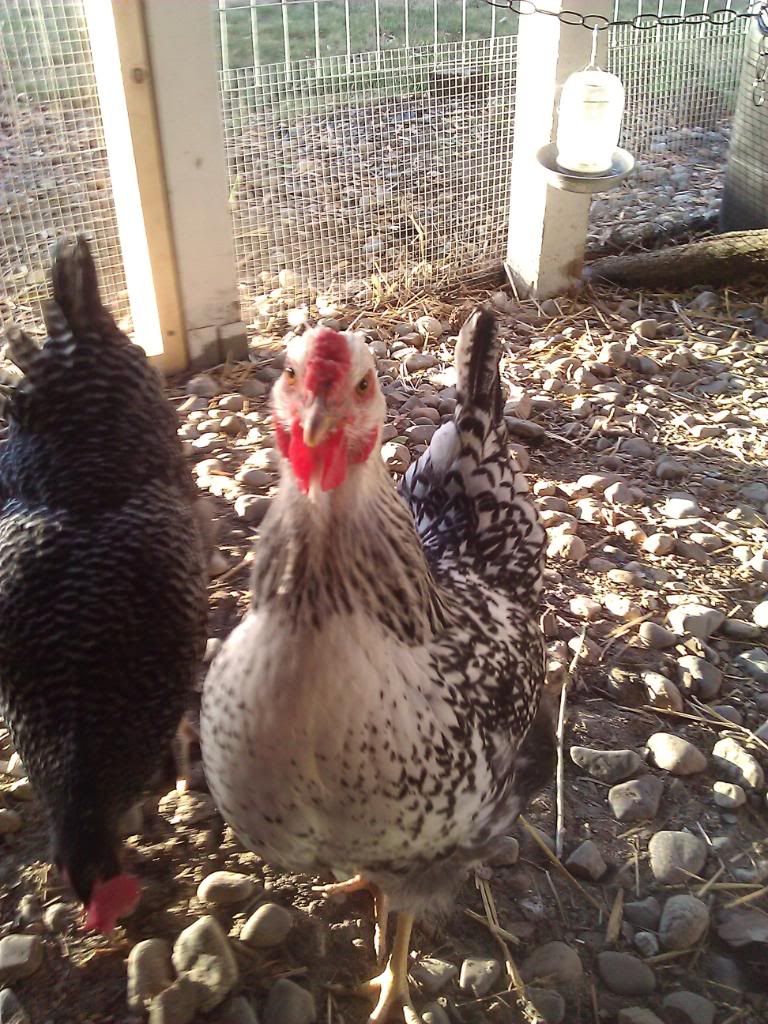 Henrietta, she looks mad here...
Also, the chickens are getting older too! Tomorrow marks their 18 week hatch date! I'm hoping to see eggs any day now, but know it might be another month before I know "for sure" they are all girls. Either way, the nest box is going in the coop tomorrow! I got a few god photos of them yesterday to share, the big red combs on Henri and Gerty have me a little worried, lol.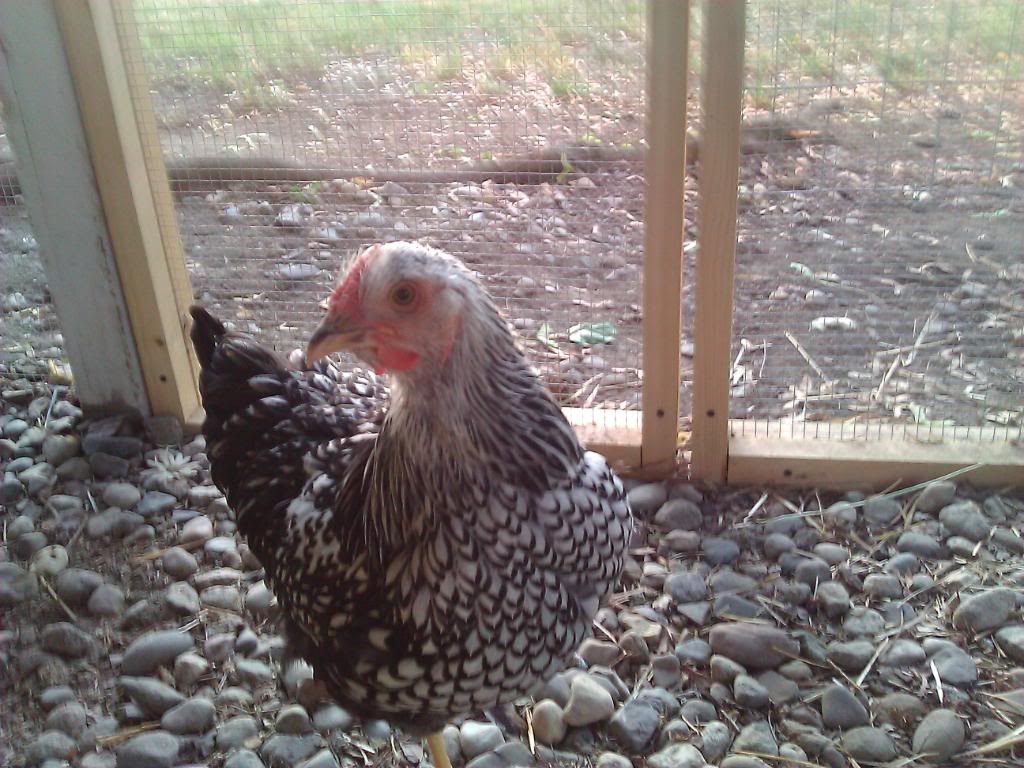 Clyde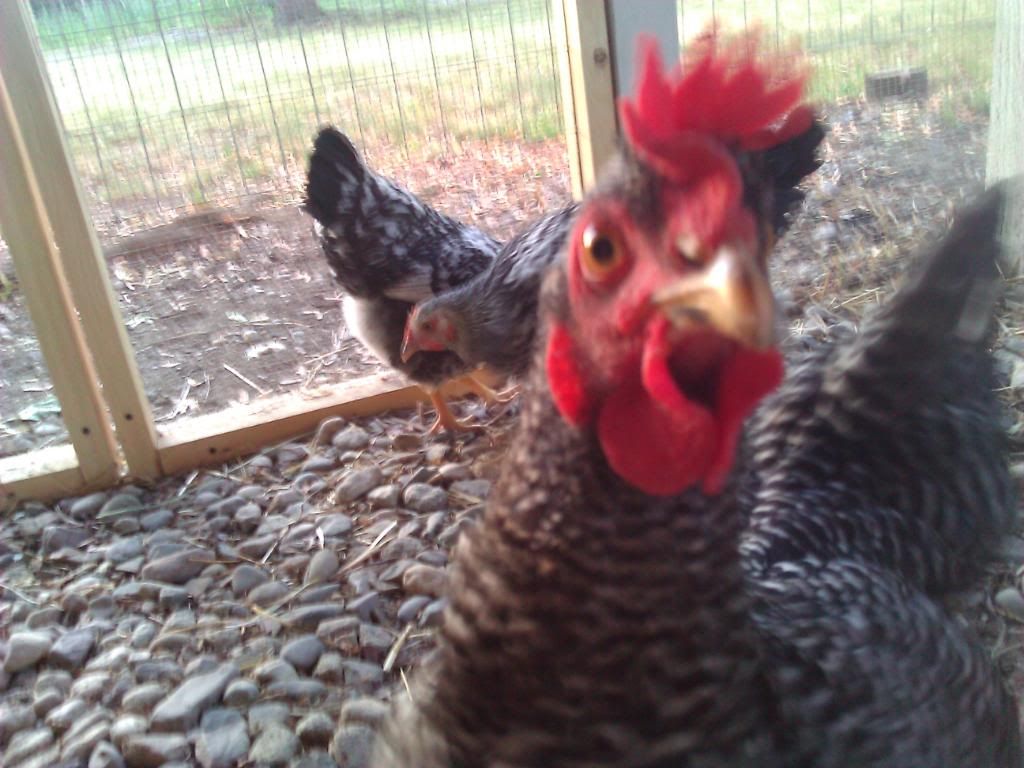 Gerty, still loves cameras and cuddles...