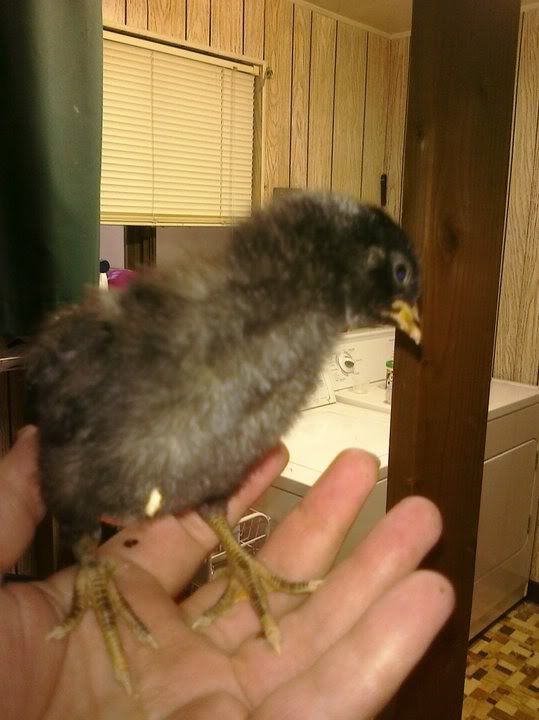 I was trying to get her left side, lol.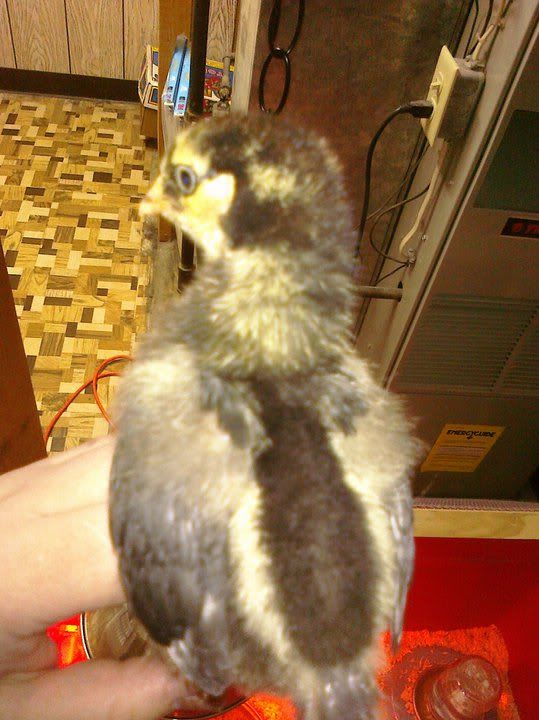 Clyde prefers everyone see this view of her...

We went to see
Sucker Punch
tonight with a group of my other half's friends. It was pretty dang good! But, probably not if you don't like fantasy, steam punk, or watching hot chicks kick some mean guy butt! I enjoyed it though. We had a good time and didn't go see a "kid" movie! We tend to only go for things like Harry Potter, lol. So, it was nice seeing an adult movie...it was unpleasant though that the theater staff let not one, but
two
people in with "under 2 footers"! One cried through the whole thing (parent's refused to leave) and the other one was either crying or running up and down the stairs from the top of the theater to the bottom, with his parent chasing him the whole time! If you really want to take your kid to a movie, please make it one appropriate for children!
Henri obliging me a picture if I'd let her lay down for a nap!
As for the chicks...I gave them their sandbox today, mostly to get it in the brooder where the heat lamp could help dry out the sand! They ate a bunch of it, but the finally figured out they shouldn't eat too much, lol.They appreciated the new toy so much, that before I left for the evening, all three of them sat for pictures on my hand! But, Clyde still won't face me when I'm trying to take her picture, lol. Gerty loves to pose for the flash! And Henri was just as happy to cuddle into my cupped hand and take a nap, but she let me take a few snaps as well.

I did some experimenting with new recipes today too. First, I tried two recipes for lunch...a
Tuna Salad
recipe and one for a
Tuna Melt
that uses tomatoes instead of the bread. I used Swiss cheese (we have three packages of sliced Swiss!) and Roma Tomatoes, because that's what I had handy. I also just diced up a Sugar Free Sweet Gherkin (I can't find Sugar Free Sweet Relish) and didn't have any Chives, so left them out. I only made 1/4 of the Tuna Salad recipe (1 pouch of tuna & 1 egg) since it was just for me. I thought I could have used more tuna & sweet pickle and not used the egg at all...it was a little odd putting an egg in my tuna salad! But, after broiling until the cheese was nice and bubbly, they tasted great! I ended up filling 4 tomato halves (cut in half and the centers removed, and fed to the dog), so 4-5g Net Carbs there...but worth it in my opinion! Besides, I'm still having a hard time getting enough veggies in! I would have liked it better if the cheese had turned dark on the tops of the "bubbles", but my rack wasn't close enough to the broiler for that. It did warm the edges of the tomato up and cooked them a bit, but for the most part they stayed pretty cold, which was nice.
For dinner tonight, I made Flatout "pizzas"! I started with a piece of Flatout flat bread, spread some homemade pizza sauce on (small can of tomato sauce with Italian seasoning mixed in...I blend my own Italian mix, but use what you like...), put on some shredded cheese (I keep mine in the freezer, works great for things that need to bake in the oven) and Pepperoni. For my pizza, I also diced up a few black olives and a handful of Baby portabella mushroom slices in a "slap chop" type device (I was too lazy to cut them up by hand) and put that layer between the cheese and Pepperonis. I then sprinkled a little more cheese on top and put them (one at a time) in the oven for 6-8 minutes. A little high in carbs for the level 1/ level 2 eating we're on right now...but well worth it since we've both been dying for a good, solid pizza!

We got home a little late (for us anyway) from the movie tonight, so when we got in I went to shut off the overhead fluorescent light in the laundry room and check on the girls before we came upstairs for our own "bed time". All three of them were cuddled up on the stick I put in the coop! They're learning to roost! I know, it's just instinct, but I'm excited! When I added the sandbox today, I move the branch so that it was a little higher off the ground, and they must like it, because they were all up there starting to doze when I opened the door! They didn't even bother getting up, lol. They just cheeped at me while I snapped a quick picture, turned off the light, and told them "night night", lol.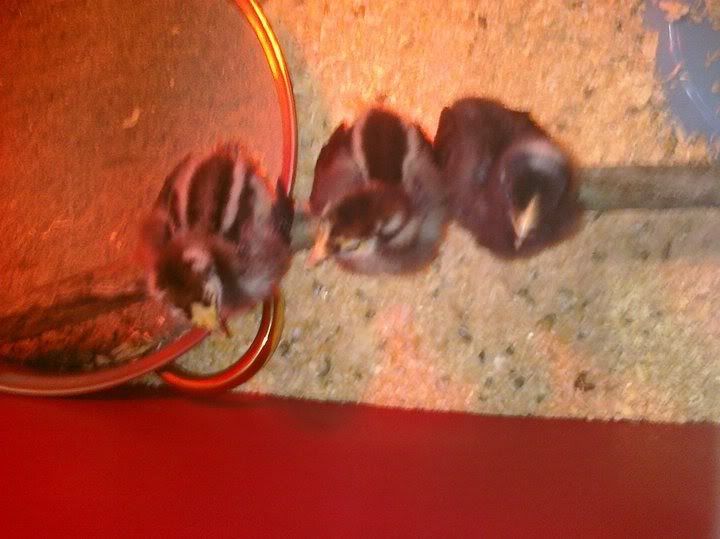 L-R: Henrietta, Clyde, & Gertrude