I received a lovely card yesterday from a gal that works with my other half, it's so cute I had to share! I got thanked for holding her place in line, even though I would have done it anyway (I was there after all). The gift card that came inside was unneeded, but highly appreciated!
It also helped get me motivated to start working on my chicken coop again...like the three gals in the laundry room weren't enough incentive, lol.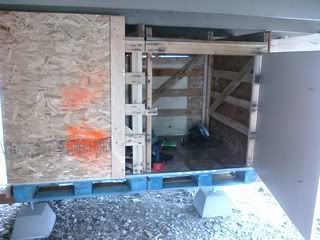 So, I got outside this afternoon, after another trip out shopping, and I got the final wall up! Technically, the only wall here is that piece of OSB on the left that has the Orange spray paint on it, the rest is the "people" door, lol. But, it works! I attached a 4" wide piece of thinner plywood to the edge of the OSB, so that it lines up with the thicker plywood I used for the door (and the back wall). That piece of plywood is also what I attached the locking mechanisms for the door to (thicker than anywhere else, so more secure).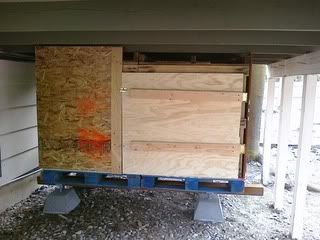 There is a bolt-action lock at the top of the door and a hook & eye at the bottom (I had planned on putting a second bolt-action, but nothing is sitting quite "straight" so I couldn't get things to line up). It takes a little work for the bolt-action to line up, but once it does, it's really secure! I'm guessing my whole hen house leans to the front a little, because the door swings open very fast! But, once it's open, it stays that way quite nicely! I will attach a chain with a small spring-closed clip to hold the door open when I need it to be open though. I still need to figure out where I'll have the pop door (somewhere on the main door), finish the back wall (the small piece of wood on the right is stuffed behind the longer board and is blocking an opening that runs from the top down and is 8-10" wide), wrap the right hand corners in hardware cloth (
added ventilation where my boards didn't line up right), paint the whole thing (inside & out), and get some paneling up on the interior for the roof! But, they have 4 walls now!
As I mentioned before, I had to do a little shopping today, which included a stop at Cash & Carry! I normally buy Da Vinci's coffee syrups, but Torani was on sale for a few cents less...and they had some flavors I've been wanting to try anyway! I got Black Cherry & Mango to make Italian Sodas and Creamosas (Italian soda with a little cream added) out of...great hot weather treats when soda is just too "heavy"! Then, I got Caramel, Peppermint, and Almond Roca flavors to replace the bottles I have that are running out or extremely low (Praline, Macadamia Nut, Huckleberry, and one or two more)! I like having options for my morning coffee... Normally, I buy Peppermint Paddy, which is green and is a mix of Chocolate & Peppermint, but since we still have 2/3 of a bottle of Chocolate, I figured we could mix our own "Paddys". I highly recommend getting these types of things where the coffee shops buy them...and
not
at the Grocery stores! I paid $3.74 a bottle, as opposed to the price tag at Fred Meyer, which is $6.99! Not only do I save a ton of money this way...but I have a huge flavor selection to choose from, instead of the standard "Vanilla, Hazelnut, or Raspberry" that most groceries carry! I have to control myself a bit when I do this shopping though...I'd love to have one of every flavor! I found that my local Cash & Carry (at the end of my street, lucky me) now has Sugar Free Banana flavor! I plan on getting one of those this summer to go with the Coconut in a Creamosa! I used to get them at a local coffee shop by my Mother's house with Pineapple, Banana, & Coconut...but that wasn't sugar free! I suppose I'll "have" to buy a bottle of the Pineapple flavor too!
I did find a flavor that I doubt I will ever spend money on though...Coffee flavor! I can just imagine what "coffee flavored Coffee" would taste like... The price tag in that photo is why we normally buy Da Vinci's though...these just happened to be "hot sheeted" today, which is C&C's sale ad (no coupon needed). Be prepared to spend around $20 though, lol! My Mother called to tell e about her first trip in alone, after a trip in to the one near her while I was there in February, they spent over $50 stocking up on flavors! I limit myself to the "staple" flavors (French Vanilla, Peppermint (normally Paddy), & Caramel), but not all at the same time and one or two bottles of "new" flavors. I almost never buy the same "new" ones in a row, lol. Blueberry was my most recent try...I wasn't a huge fan though. It makes a great Blueberry Muffin flavored coffee with a little bit of French Vanilla mixed in, or mixed with Coconut is good too...but it is a very strong flavor, so a little goes a
long
way!
I found a roll of Tomato Twine today while I was looking for regular Twine. It's a huge roll with over 800 feet of twine and the only other twine was Sisal twine (way to rough for what I want it for). So, the boys are going to get to make green twined hanging planters!
I also made a stop at Michael's (it's next to Cash & Carry) and picked up nice wide picture frames for $1 each that I'm going to paint with the Chalkboard paint! I also got some "craft" paint in Bright Yellow (oldest Nephew's favorite color), Bright Blue (another favorite, but I forget which of the other two boys), and Bright Red (the other one's favorite color) to do the backs and edges with! I got a fourth frame to make one for the nephew on the other side of the family as well, but I'm not sure which color I'll use for it. Only thing I'll need to find to go with them is a little bit of chalk! I also got a couple of "kid sized" plates for our house that have a cute black & white chicken on them and say "Rise & Shine!" on them. I don't like giving the kids full sized plates, because other adults seem to think the kids need a full plate too. And, we tend to use the one "kid plate" we have here as soon as it's washed for snacks and/or light lunches! I paid $1 each for the plates and $0.59 each for the colored paints.