We started following a low-carb lifestyle back in October...I have lost nearly 20 pounds since then, though it is coming off
very slowly
! I switched from following the Suzanne Somers diet, Somersizing" to Atkins, which is less strict on what you can eat (pumpkin, coconut, olives, etc... were all off-limits on Somersizing), but is more strict in the amounts of things like Cream that you can have in a given day. The shakes and bars are life-savers in this house! They are very expensive, but they make great snacks when we are out of the house or just really craving a chocolate chip cookie (our new favorite flavor of the Atkin's Advantage bars)!
A typical day of meals consists of:
Breakfast - Scrambled Eggs with a dash of cream mixed in...covered in butter (lightly...maybe 2 teaspoons for 6 eggs). Bacon, pork sausage (bulk/links/patties)...or a Muffin in a Minute from the Atkin's website! And coffee....got to have coffee! I
do not
function in the morning without half a pot in me!
Weekend breakfasts are when I get creative with this meal...they are later in the day and I don't have to rush! I found a recipe for Funnel Cakes on a low-carb site, though I forget which one (my recipe is written on the back of an old envelope). These are basically just protein powder, eggs, and a few other flavor type ingredients, then fried in the deep fryer! I drop them by spoonfuls, but you can make funnel cakes with them too.
I also love making pancakes! My recipe is never the same twice though! I use eggs (always), vanilla (also always), Splenda (always again), and the rest vary depending on my mood, but can include; cinnamon, nutmeg, ginger, allspice, protein powder, cream cheese...like I said, pretty much anything goes here...I even turn them into waffles sometimes too! I use sugar free Maple Syrup (store bought)...I don't like very much at all, so I never come anywhere close to the 1/4 cup serving and carbs listed on the bottle!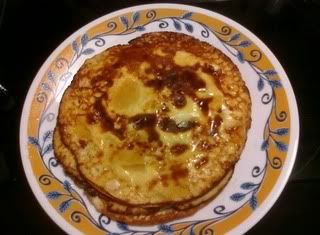 Lunch - Salad, left overs from dinner, tuna/chicken/turkey/egg salad...one type of salad, not all mixed! I have even had a "salad" of sorts that was just green peas, a diced egg, some bacon crumbled up, and mayo all mixed together! That reminds me...I need to boil more eggs!
I love doing BLT wraps! I made this one with "candied" tomatoes...a great thing to make if you have extra tomatoes to use up! I use the lettuce and just spread the mayo right on and stack everything up inside of it.
Dinner - Our typical "I don't wanna cook" meal is Burger King...we get the single stackers with no bun and "plain" (no sauce) and then add A1 or BBQ Sauce, neither of which is low carb..adds a little flavor though. At $1 each, we order 6 for the 2 of us to eat, or 5 and a side salad. With the Value drinks and tax, we eat a meal for about $8.70...not bad these days! At home I cook...and I
love
to do that! I get a large number of recipes from blogs I follow here, even more from old abandoned forums on low-carbing it (it used to be a very popular thing), and some I just make up as I go!
This was Pork Chops I did for dinner a while ago...just salt & peppered them and tossed them in a pan with a little Extra Virgin Olive Oil...6-10 minutes and they came out perfect! The veggie side was Green Beans (Frenched cause that's what I had handy) cooked with a little butter & EVOO, some snipped up "candied" tomatoes (baked Roma's with a little salt & EVOO until their kinda chewy) and Bacon! Everything is better with bacon!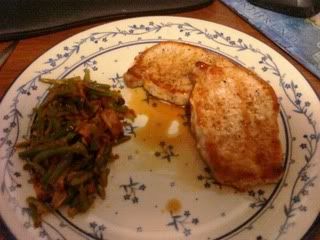 Snacks - Atkin's bars and shakes (they don't taste"diety" at all)...olives, cheese (string cheese is a snack time favorite), meat...pretty much anything we can grab and snack on...almonds do not last long around here, lol.
Soups are an "any time" food here...though I generally eat them for lunch when it's just me at home. I make these as "single servings". I have made "cream of" soups from fresh mushrooms (baby criminis are the best), cauliflower, and broccoli. The one pictured it Mushroom....I love a little dill weed in it! It really sparks up the flavor!