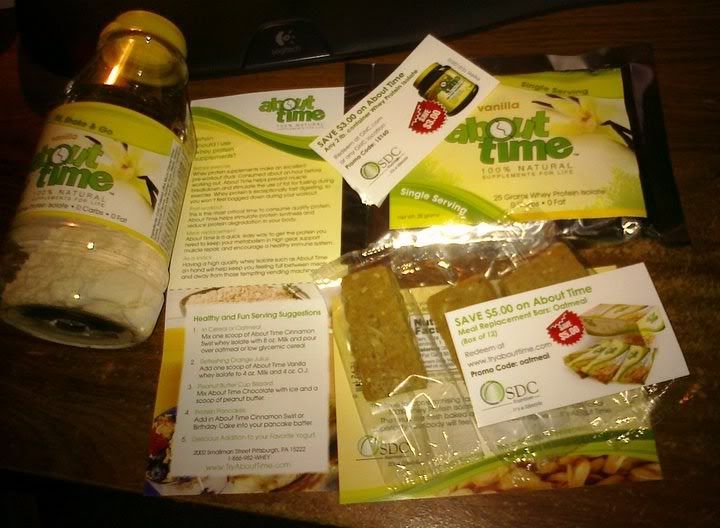 My sample order!
I do a lot of low-carb cooking, with two of us doing it, nearly every meal has to be cooked by one of us (that's usually me). I have searched long and hard for some "staples" of low-carb cooking. One that I think is just the
best product ever to hit the market
is Whey Protein Powder and my favorite company for that is SDC Nutrition! Their protein powder is called
About Time
, I love it so much for many reasons, first though it is one of very few that are actually made without sugar! It is really hard to say something is "healthy" when it's loaded with pound packing sugar, at least in my humble (or not so humble) opinion.
From the nutrition label of the Vanilla flavored (which is what I use to bake with):
1 scoop (about 28g)
Calories: 103
Total Fat: 0 g
Cholesterol: 1mg
Total Carbohydrates: 0 g
Calcium: 120 mg
Phosphorous: 59 mg
Potassium: 83 mg
Protein: 25 g
That is awesome on so many levels! But, it gets better...the ingredients list!
"Cold Pressed Ultra Mtcro-filtered Whey Isolate, Natural Flavors, Xanthum Gum, Stevia."
That's all! The Whey (which is the protein found in milk), Xanthum Gum (that'sa thickener commonly used in low-carb cooking), Stevia (sweetener, kinda like Splenda, but totally natural), and "flavors" (that makes it "vanilla" and not just "plain")!
Before I found this product online (yet another product I can't get locally!) I went to the local GNC store to see what they had. What they did have was loaded with carbs and mostly sugars. They did have
one
option that had zero carbs, but at nearly $75 for a 2 pound tub, I passed! I searched for online sources and found the site for About Time and I was quickly in love! First, I ordered a "sample pack" for the $3...I ordered Vanilla ans Birthday cake flavor, but only recieved the Vanilla (a mistake that was remedied, but as a small company, it didn;t happen very quickly). I did eventually get to sample the Birthday Cake flavor and is is great mixed with water (1 cup) and a touch of cream to thicken it up! I'm on my second 2 pound container of Vanilla now, we go through spurts of using it in everything and some weeks I don't even touch the container!
Another great thing, the price! Only $40 (plus shippping)! Still spendy, but if you can catch it on sale, you can get twice as much for the same price as you'd pay at GNC for a sugar filled version!
So that's my rant on that, lol.