I still can't get video off my phone...stupid Zune. But, I was able (with the help of someone else) to get my Facebook set up right so that I can upload pics to there! Then, I just copy them to my desktop and then upload to Photobucket, lol.
Where to start? I have so much catching up to do! Today is the 8 week (I think) mark until the last frost! That means it's time to get those Veggie seeds into the starter cells so they're ready to plant next month! I haven't done that quite yet today, but it is on the "to do" list! First though, I need to figure out a better solution for setting them up to grow...my youngest cat, Baby (who wouldn't touch the Cat Grass), has decided he really likes to eat Sweet Pea and Morning Glory starts! Bad kitty... I should have that all figured out by tomorrow though.
Food Stuffs!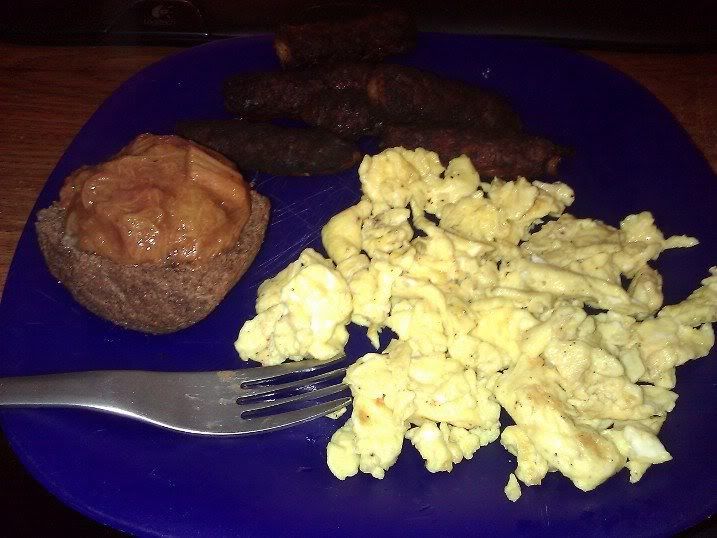 The other day (two nights ago) I didn't really feel like cooking a "bog elaborate" meal, so I made Breakfast for Dinner! We haven't really been eating breakfast lately, mostly because I'm having a hard time getting up in time to make it. So, I was really craving Scrambled Eggs! In the back of the photo, you can kinda see my accidentally "Cajun'd" Pork Sausage Links, I buy Hormel Little Sizzlers, they come pre-formed as links, or patties, but are raw sausage. I put the whole package in the fridge over night and by morning they are thawed and cook much faster, they can be cooked from frozen, but they take forever! I keep my Eggs simple...a little cream, Salt (unless I'm using Salted Butter) and Pepper, nothing else in there! I use a little butter in the pan, and once they're cooked...I add another pat of butter, it's a trick I learned watching the Barefoot Contessa, Ina Garten, on the Food Network a few years ago...makes pretty glossy eggs, every time! I know that muffin doesn't look low carb at all, but I promise, it is! I made a regular MiM (Muffin in a Minute) following the recipe on the Atkins website (3.2, maybe 3.4g Net carbs in a whole muffin!) After I cooked the MiM (1 minute in the microwave), I split it and tossed it under the broiler to "toast" it up, which really is just drying out to sides. It had the feel of a lightly toasted piece of bread! The topping is just Rhubarb, that I made into a sauce kind of like a jam. I have about 4 gallons of frozen Rhubarb that my Mother brought me last summer and helped me chop into roughly 1" pieces. My Rhubarb hasn't really done well since we moved here and I haven't been able to get anything off of my 6 plants for the last 3 summers! Anyway, I filled my smallest sauce pan about 3/4 full of frozen rhubarb and put in enough water to barely cover the bottom of the pan. Put a lid on t over high heat and let it come to a boil, some stirring required as the Rhubarb thaws. After it had thawed/boiled, I added a little Splenda (to taste, I think Rhubarb is great with a little bitter coming through), some Cinnamon and Nutmeg (next time I'll leave these out), and just a little Vanilla. With lots of stirring to break down the Rhubarb into a jam consistency rather than chunks, I turned down the heat and let it simmer while I cooked the sausage. I moved it to a dish I could cover before I started the eggs. I topped my MiM with a little Butter and about 1/4 cup of the Rhubarb Sauce (1/2 cup would be 1.7 carbs before factoring n the Splenda, which I ignore)! And, it's a Foundation Veggie!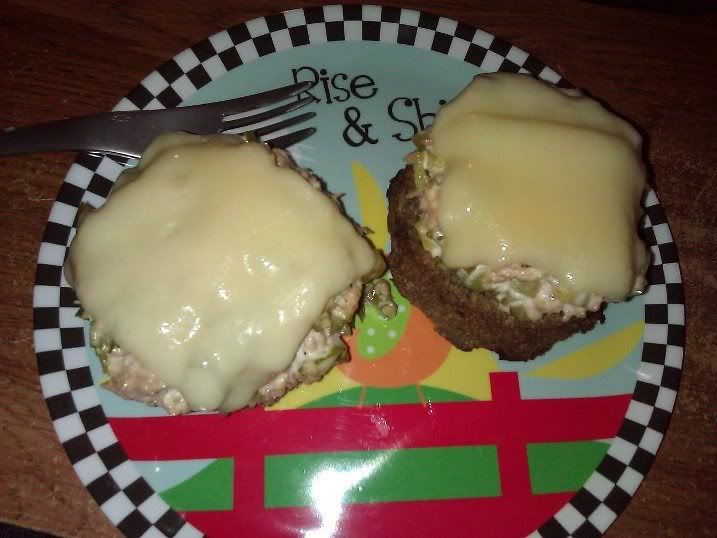 I've been on a little bit of a MiM kick, but my true passion this past week has been Tuna Salad! Actually I've gone a little crazy over the Sugar Free Sweet Gherkins too... For lunch yesterday, I made a MiM for "bread" and toasted it under the broiler. Then, I topped it with my own version of Tuna Salad...I wasn't fond of the last one I tried with diced Egg in it... Mine was a pouch of Tuna (I buy the pouch kind because I can send it in lunch boxes and let my other half mix his own at work), maybe 2 T Mayo (I like my salad a little dry for Melts), and 3 Sweet Gherkins! I love the sweet pickle taste in Tuna Salad! I piled it super high on my split MiM, topped it with Swiss Cheese and put it back under the broiler, where I accidentally burnt the MiM trying to get the Cheese to bubble & brown, lol. It was awesome though and I fully plan to make another in the near future!
My New Phone!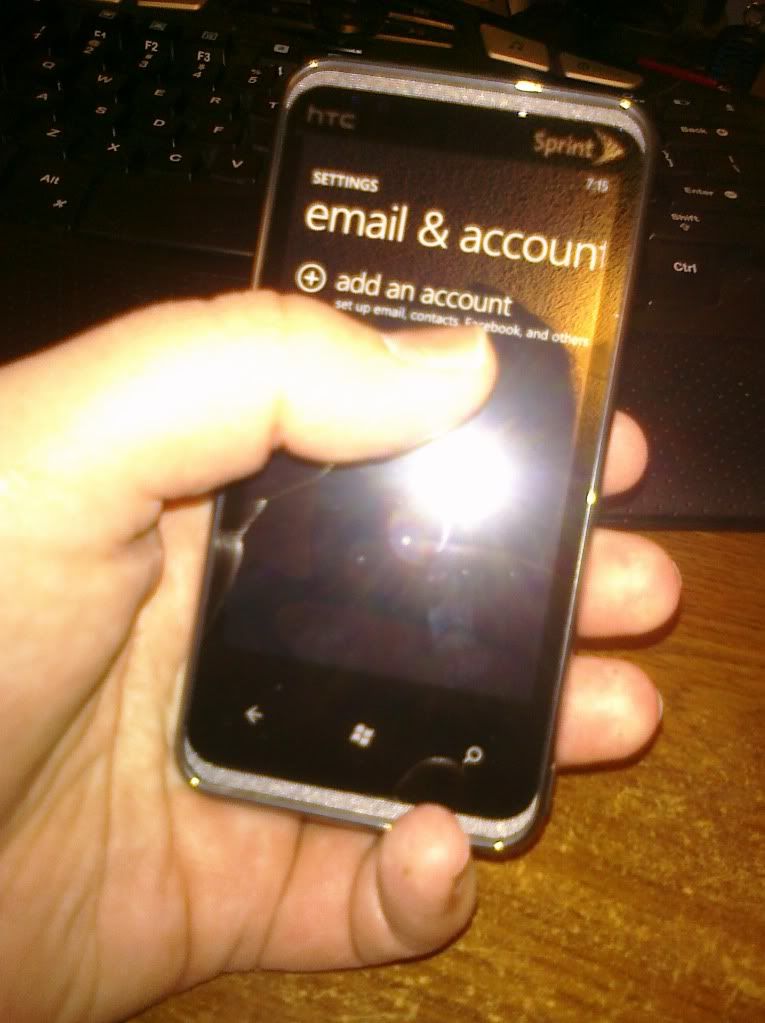 I ended up getting the new Windows phone that Sprint is carrying, the HTC Arrive. It's a horrible picture (taken with the old cell phone), but you get the idea, lol. I'm still getting used to it, but I am officially in love with an App for it called "Pic2shop"! You can scan a barcode by taking a picture of it, or even just by entering the numbers on a barcode! It searches everything and finds what you're looking for! But, beware...I found out some things share the same barcode! I scanned in the bottle of Acrylic paint I used for the photo frames and it came up with a very adult movie (there were three X's on the front...)! Obviously, after that I was a little put off, so I put the program away and hadn't really played with it since. But, since today was the last of my basket weaving classes, I wanted to make sure I had the name of an excellent pattern book the instructor had, after taking several pictures of the front so I could look for it when I got home, I tried the scanner app and it found it! It searched and found it for sale at multiple sites online and it even searched all library databases within 50 miles of me too! I'm very impressed! I'll be buying the book this evening from Amazon for $0.32 plus $3.99 shipping! Talk about a steal of a book! But, back to the new phone. It took me several days and finally asking for help because the manual said that I should be able to just "click the button to upload to Facebook" (for pictures), but they failed to mention how and/or where you needed to set up Facebook! I already had a Facebook app installed, I didn't know I needed two of them, lol.
Since we went to a "phone event" at the Sprint store in the mall, I was supposed to spin a wheel to get a "prize" for buying a phone...but the manager let me choose my prize instead, lol. So, I got a free $25 Bluetooth headset to go with my new phone! It isn't much and the sound quality on the "other end" of the phone isn't great according to my other half, but on my end it's great. The whole thing is about the size of a Nickel too, so it isn't a big heavy headset either...my last one was and it eventually fell into a bunch of little pieces because it fell off me constantly! This one has a little clip that can go on it, but it holds pretty well without it too.
Insurance is a GOOD thing!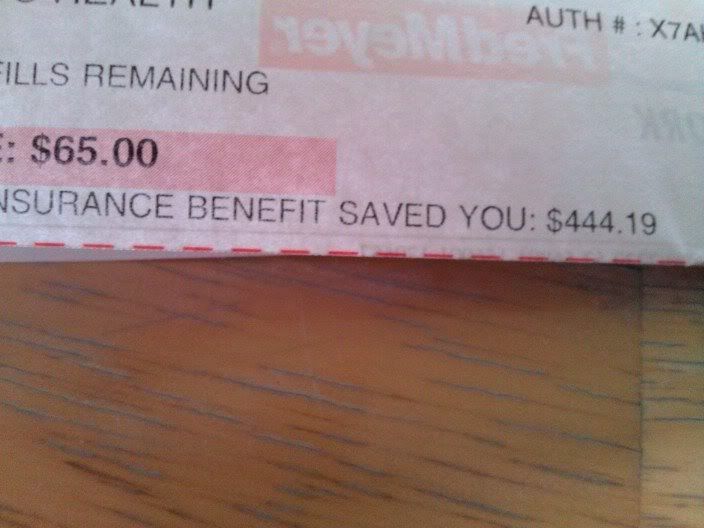 I had to go and get one of my Insulin prescriptions today, my Lantus (long acting that I take 89 units a day of). With our insurance, we pay $65 for a one month supply (I use a pen system so my insulin comes in prefilled cartridges with 300 units per "pen" and 5 pens in a box...so that's 2 boxes, 10 pens for a month). I love the "Your Insurance Saved You..." at the bottom of the info sheets! I "saved" $444.19 on this prescription! If I were to fill my Humalog (the short acting insulin) prescription, it's also $65 and I "save" something like $900 and change! Of course, with switching to a low carb diet, I'm still working on the first box of the prescription that I got in mid-January (and on that one I get 4 boxes, or 20 pens)! Yup, I love my insurance company! It also doesn't hurt that it's where my other half is employed too, lol. That's why we have the "good" insurance!
Plant Life...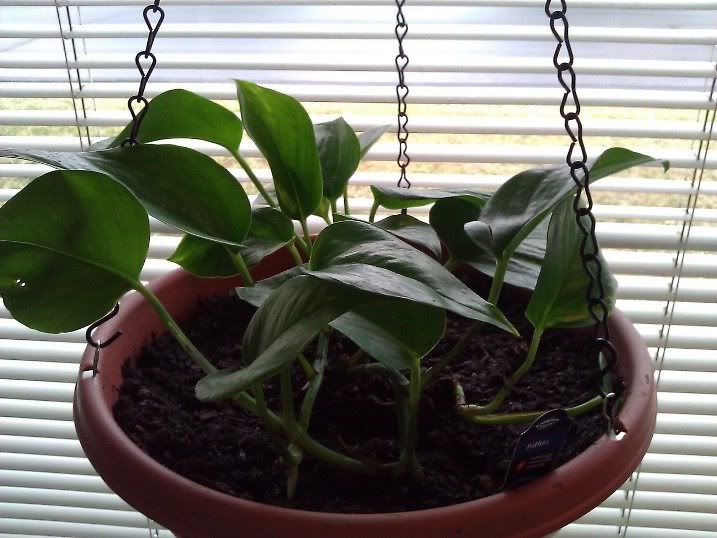 I have three hanging planters now hanging around my living room! I have already planted my Morning Glory seedlings in the planters they'll go outside in, they were getting a bit "tall" for the seed starter cells, lol. However, my cat decided he likes to chew on the Morning Glory's! He topped 2 of the 14 of them! I guess he prefers the Sweet Peas though, since he topped every last one of them and didn't spit them out like he did the Morning Glory! My third planter, pictured to the right, is a Pothos I bought at Wal-Mart 3-4 weeks ago. I haven't had a Pothos for years! The last Pothos I had anything to do with were gigantic and had overgrown the windows they lived in..I also accidentally killed them when I moved, lol. This little one though, is doing great! There are new roots digging in and it hasn't turned brown yet! Ha!
Shopping and Weight Loss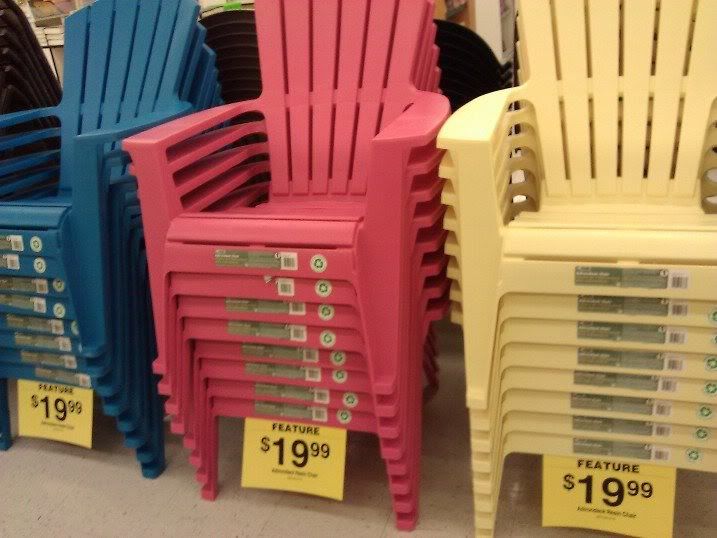 I usually only weigh myself on Fridays, I started low carbing it on a Friday, so that way my weights are all 7 days apart, rather than just taking the "low" for the week...it keeps me honest, lol. But, I do occasionally weigh myself during the week to see where I'm at. That's what I did this morning and I actually had to weigh myself twice to make sure I wasn't seeing things! I'm down 22.6 lbs from my starting weight in October! My first "mini goal" is 25 lbs. and my reward for that is "something pretty" that I want, lol. I don't want to get clothes, because they won't fit after long enough and I don't really wear much jewelry (necklaces occasionally). At the moment that's mostly due to one of my earring holes completely closing up...I need to get it re pierced! So, while I was doing a little shopping today...I looked at things I might like to get myself... These plastic chairs are what I came up with! They're Adirondack style chairs in nice bright (yet pale) Easter colors (Yellow, Blue, and Pink)! I'd really like to get one of each, but I'll settle for 2 of them, lol. I think I'll end up with a Pink and a Blue, but I really like the Yellow too... They also have them in Dark Green and I think Black (could have been dark Brown), but they are priced at $30 a chair instead! Happy colors work for me, lol.