Rosie is almost 10 years old, she was born September 12, 2001! She's a spoiled rotten Lab (though because all labs are dyslexic, she thinks she's a Lap dog!), who weighs in between 60 and 75 pounds depending on the time of year and all that stuff (and treats). She was at the Vet a couple of days ago and currently weighs 63 pounds. Right in range for a Black Lab. :)
I did mention spoiled... She travels with us when we go to visit the relatives on my side of the family. This particular trip, we were going to visit both sides of the family and she spent a week getting spoiled by my Mother too! She takes her bed with her, usually it's the smaller one that fits better in the car, but this was an extended trip for her. She had the entire back half of the car (which is really an SUV with three rows of seating...), so I dropped the rear seats to be flat and laid her dog bed out for the trip. On the way home it was a little more cramped in the car, we had a 5 year old with us (a nephew who was coming back to stay for a couple of weeks) as well as a cat we were bringing home with us!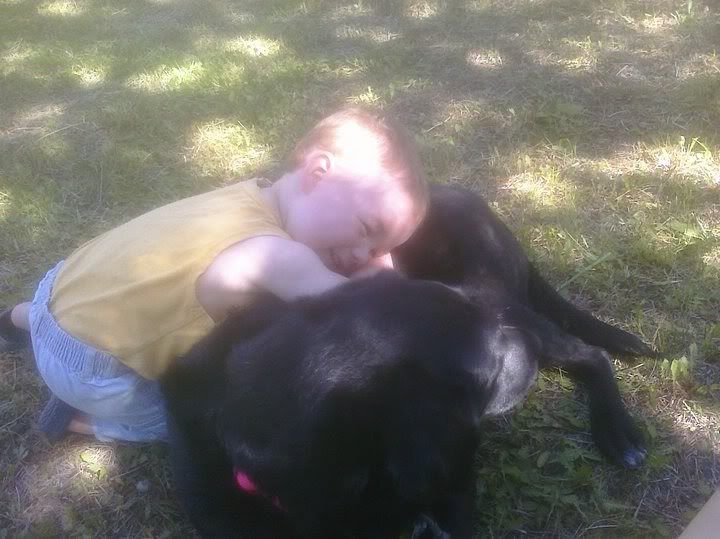 She is so tolerant with most kids! This is one of our nephews loving on the dog, the youngest two of my sister's kids (ages 2 and 4 last summer) spent most of our visit like this! She lets them crawl all over her, lol. She is not so tolerant of kids that are mean to her though...she does have a breaking point!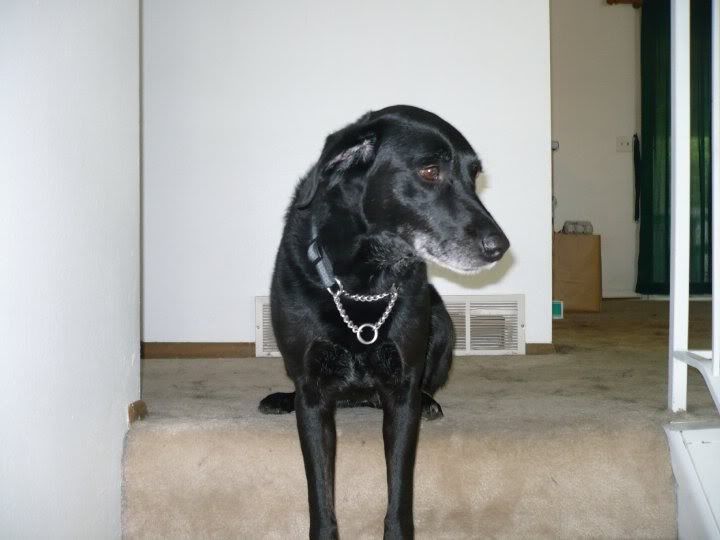 Rosie has a few "odd" habits too...she backs up the stairs! Not all the time, but she will go up the entire flight, including the landing, totally backwards if that's how she happens to be pointed! She sits like this a lot too, lol. Pay no attention to the dirty carpet...cream carpet and dark colored pets don't mix well!
This is the dog's "travel bed", but it stays in my office when we're all home. Our cat, Baby, thinks it's his bed though and rarely shares more than a corner of it with the dog!
Rosie's most recent "worries" have been for the little chickens living in our Laundry room! Like every Lab I have ever had the pleasure of knowing (my childhood Lab lived to be nearly 15 years old and a friend had a Chocolate Lab a few years older than Rosie), if it's a baby, it gets protected and looked out for by them! She makes me go check on the chicks every 20 minutes or so! And she makes sure to pop her head in the room and peer into the brooder each and every time!