Yeah for warm, sunny weather!!! With a high in the mid-50's today and the sun shining down, I got to work on the first coat of exterior paint on the coop! The color is from the "mis tinted" paint discount section in Lowe's ($5 for a gallon), it worked out near perfect for me though, it almost matches the green on our house perfectly! It is a Commercial grade Semi-Gloss Exterior paint in Hunter Green (ish). I should have taken a few paint brush choices outside with me, but all I took was the big 3" bristle style brush, I knew I had a lot of surface to cover and didn't want to even think about doing it with a 1" foam brush! As it turned out, I should have taken one out with me...the big brush did not work for over the hardware cloth! I will have to go out there again and get that part covered in a layer of paint. I did leave an unpainted space on the front side, I had come down to needing to settle on where the pop door was going to go. While I was taking a break, sitting inside the coop through the people door, I noticed that on the back of that piece of OSB (like all OSB) there were straight black lines drawn/painted on. I'm hoping they are wide enough apart that it will work for the pop door (where the chickens come and go all day from)! So, I left that part unpainted, no use painting an area I'm just going to chew up with a saw and drill, right? That'll be after this layer of paint dries and before I get going on a second coat though...tomorrow maybe? I am really liking the color of the exterior! It is just slightly darker than the green on the house (it's on the window frames as the trim back here, but covers a large portion of the front of the house), it is really helping to camouflage the coop, not that too many people can actually see it anyway!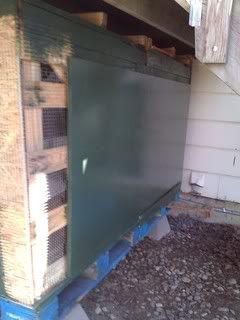 While I was out enjoying some sun and taking photo updates of all my "chicken stuff", I decided to get up to date photos of my Rhubarb too. I have a group of 6 plants that I have been growing for roughly 7 years. These were the ones I brought with me from Bend, OR when we moved (they spent 3 summers in large planters before and after the move). They didn't do very well here to begin with, they were after all living in planters! Even after going in the ground two summers ago, they never really did much more than survive! Last year showed real potential, but they never got more than about 4 inch tall stalks. This year though...I have even higher hopes for them! I thought there wasn't any growth and was considering them dead or mostly dead, so my Mother offered to bring more up with her for her visit last week, hers needed to be separated anyway. She brought me 8 cuttings! Which turned into 9 new hills after we chose to plant the small pieces that broke off as well. All of the new plants seem to be doing well today as they enjoyed some 10am-1pm sun! I may need to give these little guys a sun shield during the hot months... The only issue I saw today was were I believe my dog ran the one at the bottom of the photo over chasing something.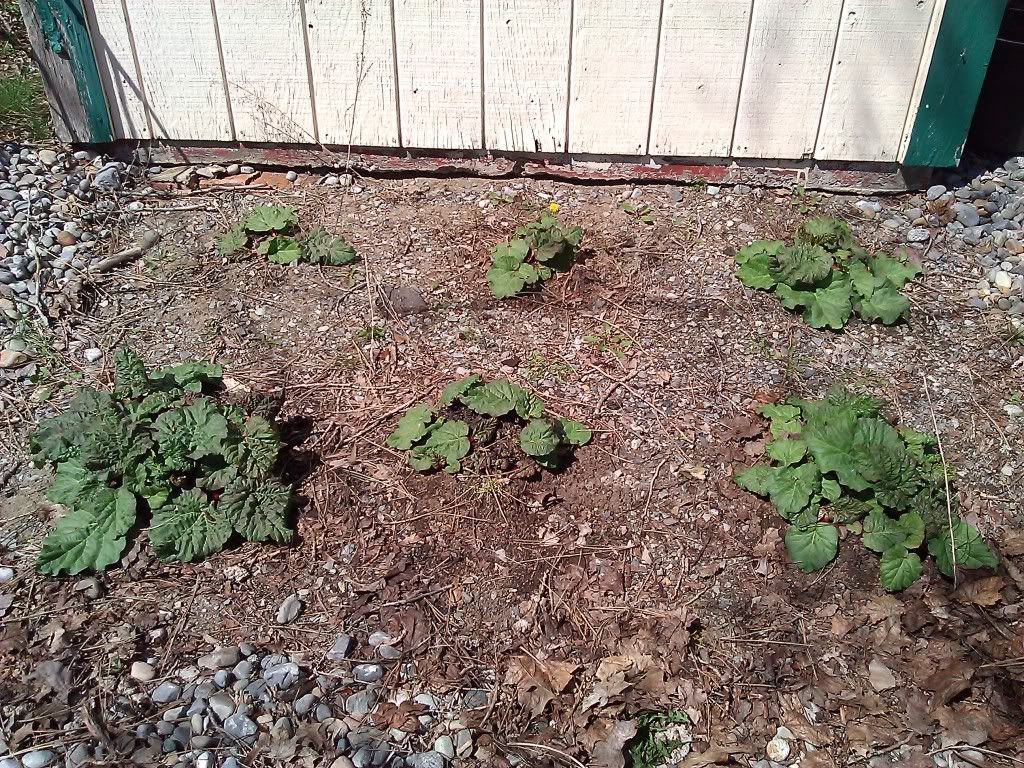 The girls have gotten really good at knocking over their food and water dishes making it an adventure to keep their brooder clean. So yesterday, armed with a roll of twine and the left over wire that came wrapped around the hardware cloth, as well as a few S-hooks and a carabineer. I started working on the feeder with twine, a mistake that I realized this morning after they had pecked enough at the twine to tip over ans empty the feed all over the brooder! The water though is held up by the hardware cloth wire wrapped in several places around the jar, so that it can not tip. I attached the carabineer to make filling easier and then a loop of twine because it was a little too tall for the girls to reach. Henri is the smallest of the girls and she has to stand on the limb that they use as a roost to reach the water, but the other two are at just the right height to reach the water without an issue. As of this morning, no more water spills! I need to go redo the feeder using the wire today still. With the dishes suspended, I don't have any more poop in everything and they aren't scratching all the feed out! Why, oh why, didn't I do this sooner?!? It does take a little more effort to get the lid off now that the food and water are hanging from it, but I don't mind and I doubt the girls mind either.