My Mom brought me more Rhubarb plants this trip! Hers are ginormous (and have been since I was a kid...over 20 yeas ago) and she split one or two with me! I have 6 little Rhubarb plants that I've been nursing back to health since we moved here in August of 2007, they were huge when we moved and were also part of a divided plant from my mother when we moved into our first house (a rental) in 2004. This year, it looks like two of my original six might produce stalks big enough to pick! But, she brought me eight new plant starts too! So, a few days ago we got busy weeding the spot I wanted them in and got them in the ground (about 5 minutes before it started snowing). They take up the entire flower bed on the side of my house now (which is about half the length of the house)! All of them are showing new growth since they hit dirt again, after only two days! That is a really good sign! It is a good thing I like Rhubarb...I now have 12-13 (there are actually nine bunches in the new area) of Rhubarb and my other half hates it! They are so pretty when they get big though!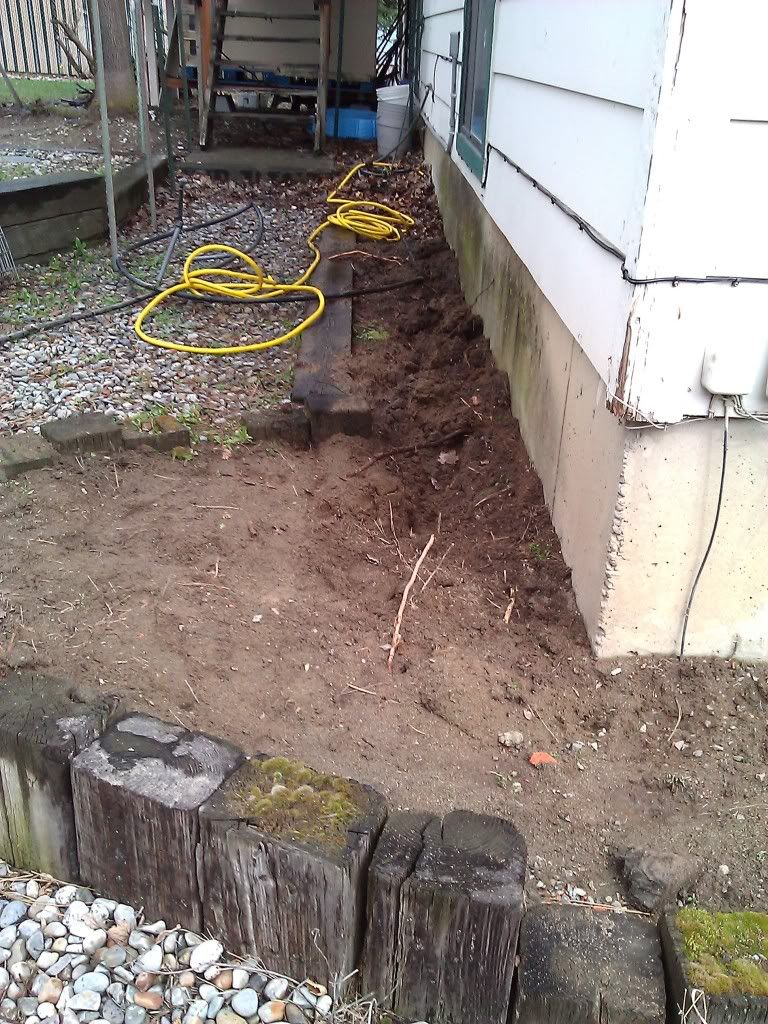 I'm still working on weeding the rest of that bed, it wraps around the corner of the house. I need to finish digging up an old sprinkler system that doesn't work (hasn't since before we moved in) as well as dig through tree roots that extend under the foundation of our house as well. I hope to get the two Blueberry bushes I bought planted in the corner and maybe the Green Bean Bushes and Wax Beans planted around the corner facing the back yard. I may put the sunflowers there though and find a better spot for the beans. I also need to get the electric company called to have them remove some old Sumac's that are tangled in the power lines that run down the fence line behind our house...they've had crew out working on the tree/power lines, but they haven't contacted us about our trees (they have talked to almost all of the neighbors I've heard from though). After those two things are done, we want to hire someone to come clean up the yards and get them ready for the mowing season (which we hire someone to do so we can enjoy our weekends rather than spend them fighting our cheap lawn mower)! Our front lawn already looks like we need to have it mowed soon, darn rain!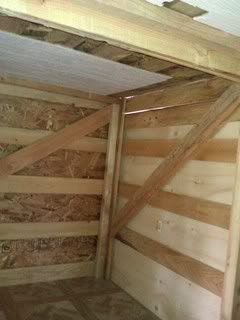 With the help of my Mom (finding boards in the pile that would fit and helping hold while I nailed), I was able to finish the roof on my coop! All that's left is a paint job and getting the hardware cloth up! This is a good thing, my girls are getting big, fast! I think I need to figure out a way to rig my chick feed and water dishes so that they hang, the newest "hobby" they have picked up is dumping one or the other and making a huge mess inside the brooder! I have about a week and a half to get the exterior walls that will be hard to reach with the run up done, then my other half will be home for a weekend before I have to go out of town for a few days. We need to get the run built that weekend because after that I have more company coming over (my Mom again) and the girls will be big enough for the move to outside!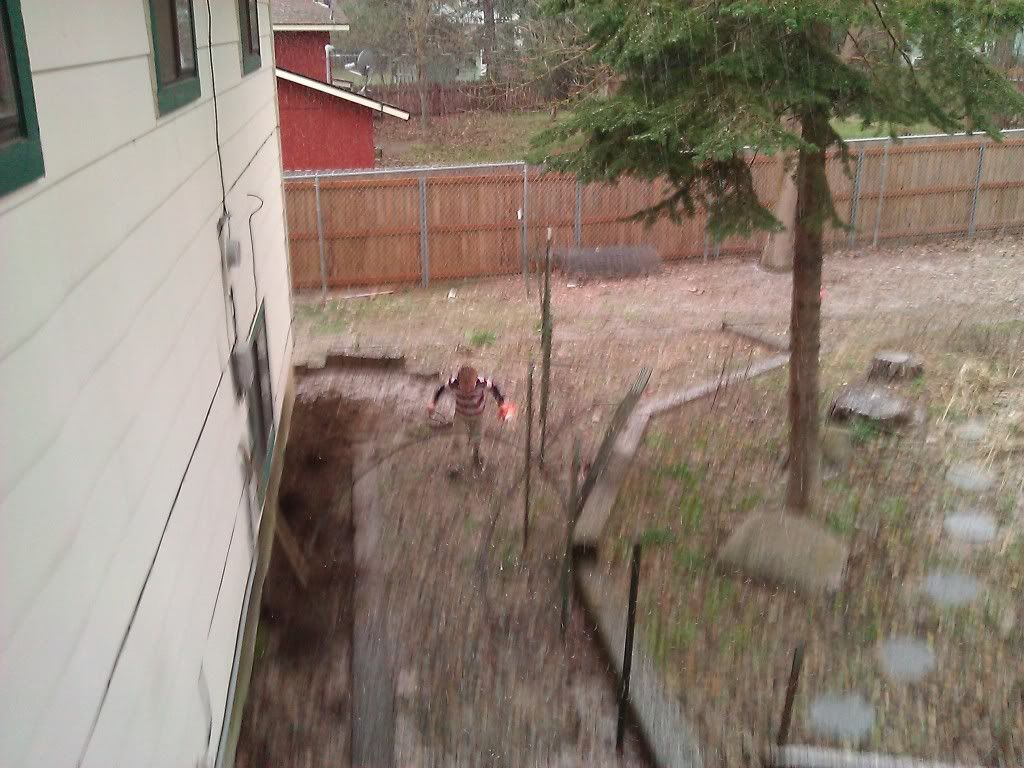 After the coop and run are built, my next "big" project for the back yard is going to be getting the large mound cleaned out (right side of the photo). I need to fill in a large hole made for a water feature that I removed after a small bird fell in and drowned a few years ago, remove several dozen large, decorative, rocks, and a load or three of river rock that coats the entire thing. I may or may not deal with the stumps that are still there (we had 8 trees removed from the mound a little under 2 years ago), but the plan (for me at least) is to turn that mound into a garden by next summer. This summer will still be mostly in containers on my deck. I will also leave some of the largest rocks (boulders) and the tree that is still there...the Arborist that we had remove the trees says it should "fluff" back out now that the trees that were hindering its growth are gone...still looks spindly to me though. Eventually, I'd like to get rid of all of the River Rocks that are everywhere in the back yard...someone spent a ton of money on them and I think they are just in the way! All of the flower beds around the yard are full of them, as is the walking paths! The other thing that needs "dealt with" are the railroad ties that are all over, used as path markers, bed walls, and even as a retaining wall in front of the house! But, that will have to wait until another year...I don't have any idea what to replace them with!