Nephew #3 found an egg!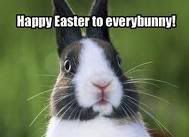 While Easter at my house this year is consisting of a "normal" breakfast of Fried Eggs and Sausage links, others in my family are fully enjoying another sugar-filled holiday! Our contribution to that celebration was a ball shaped "magic" towel (one for each nephew; Baseball, Football, & Basketball), and a "hatching egg" that hatches out some small creature/toy (again, one for each boy; Duckling, Chick, &
Tortoise).
I also made some chalkboard picture frames for each of our nephews (on my side anyway, I was told it wasn't a great idea for the other side), each of the three boys got a square frame painted with Green chalkboard paint on the front and the outside and inside of the frame painted in his favorite color (Yellow for the oldest, Blue for the middle, and Red for the Youngest)!
The official word on baby #4 is that he/she will be making their arrival on Thanksgiving (November 24th) this year! Here's hoping for a late delivery! Nephew #2's birthday is 7 days before Thanksgiving and my Grandmother's birthday is two days before Thanksgiving this year (she hates the year's that it falls on the holiday)! Looks like we'll be adding to the November/December birthday "clump" (Nephew #2 and #4 in the last half of November, Sister and other half's Mom in the first half of December)!
By 10am they had already been out to see what the Bunny left!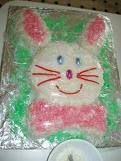 While looking for a good "happy Easter" photo for this, I ran across this picture of an Easter Bunny Cake. Somewhere, I have a picture of myself and one of my cousins (who is 4 years older than me) holding one that looks exactly like this! I believe I have a picture of myself at a birthday (mine) with a cake like this too...it wouldn't surprise me though, I have always loved the way this cake looks! Super simple to make too...you make two round cakes (three of you want really big ears) and cut one of them for the ears and bow tie (or one for a bow tie and the third for ears). Frost with White frosting, licorice whips for whiskers & mouth, and Jelly Beans for nose and eyes! For the ears, toss some coconut with Red food coloring to make pink, Green for the grass, and get creative with the bow tie! Any color would do, or make several colors, mix them together and give him a "polka dot" or "tie dyed" tie! Also, you can cover the white areas with coconut or leave them simply frosted...I love coconut, so I suggest covering it! With the right low carb cake and frosting recipes...this could even work! I will have to make an effort to find unsweetened coconut before next year...
Candy Dish I gave my Mom.
I did get one of several baskets I had planned on making before Easter completed "on time"...I sent my Mother home with a "Candy Dish"! The basket ended up being 5 inches square at the base (was supposed to be 4 inches) and at the top, it was 6.5 inches by 7 inches (also supposed to be 4 inches square...)! While not "perfect" by any means (the stakes are completely backwards), I like the shape of the basket and may try it again some day. For now though, I'm sticking to round baskets! I made a small basket for my other half yesterday to hold the many remotes we now have in the bedroom (after the new TV, which is hooked up to the DirectTV box, we also got an AppleTV, and then a new to us Blue Ray player)...each new device has come with its own remote that has to stay out (unlike the TV remote now that we got the satellite remote programmed correctly). I tried doing a rectangular basket for him...what a mess that turned out to be! I'll be making some sort of hanging or round basket soon to replace that little misshapen nightmare!
Clyde, Henri, & Gerty
The girls get bigger by the day and are nearly too big for their little brooder now! I need to get the run up so they have space to run around, even if I still need to bring them inside at night for a while! Being "cooped up" is starting to show...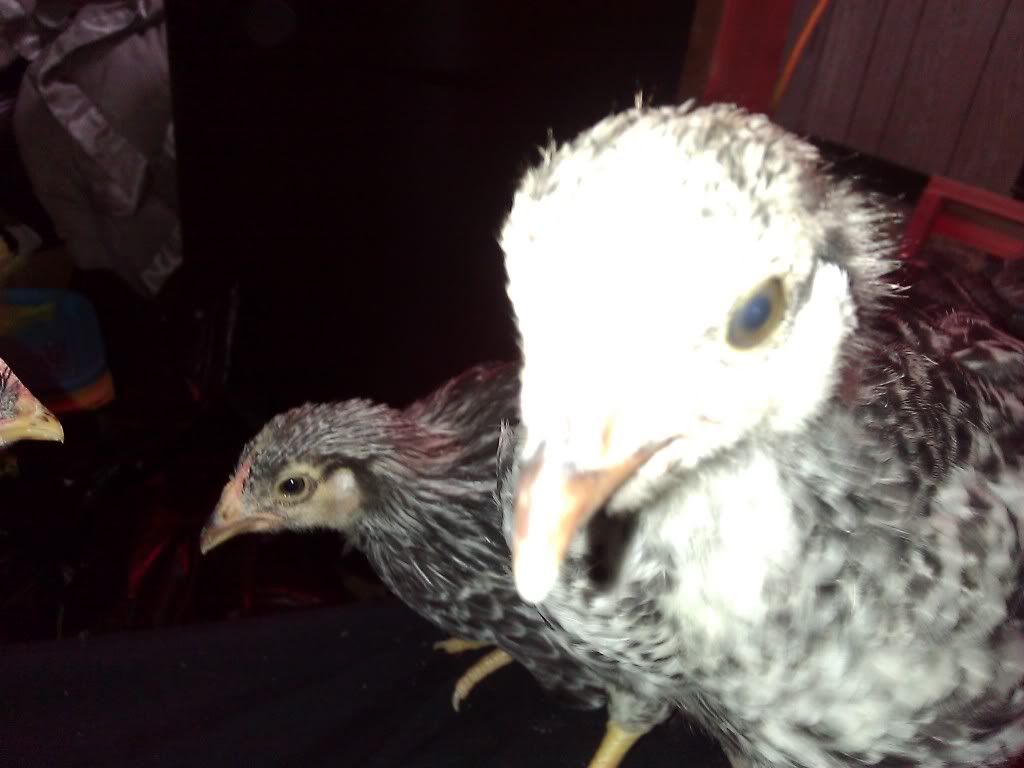 Henri getting up close and personal w/ Clyde watching.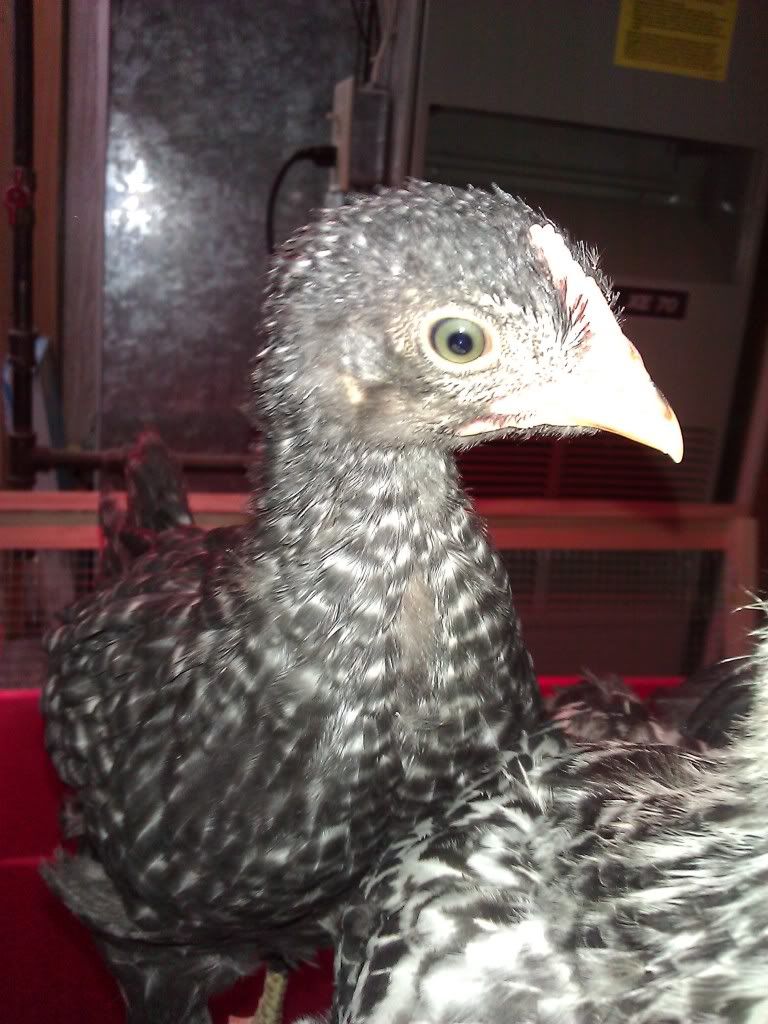 Gerty eyeing the flash again!
The bigger they get though, and as their feathers come in and their color patterns change, it is really fun to see how they are turning out! I think I ended up with only one true Silver Laced Wyandotte (Henri) though...Clyde looks to be turning out to being a Silver Penciled Wyandotte. That is awesome in my opinion! I have read so many "I had a favorite hen but can't tell which one she is now" stories over at BYC that I have been really nervous about being able to tell them apart! Of course, I have been able to tell my girls apart since day 1 (in most pictures) and now that they are starting to really pattern out, I can see why!
And just to see how many more photos I can cram into one post...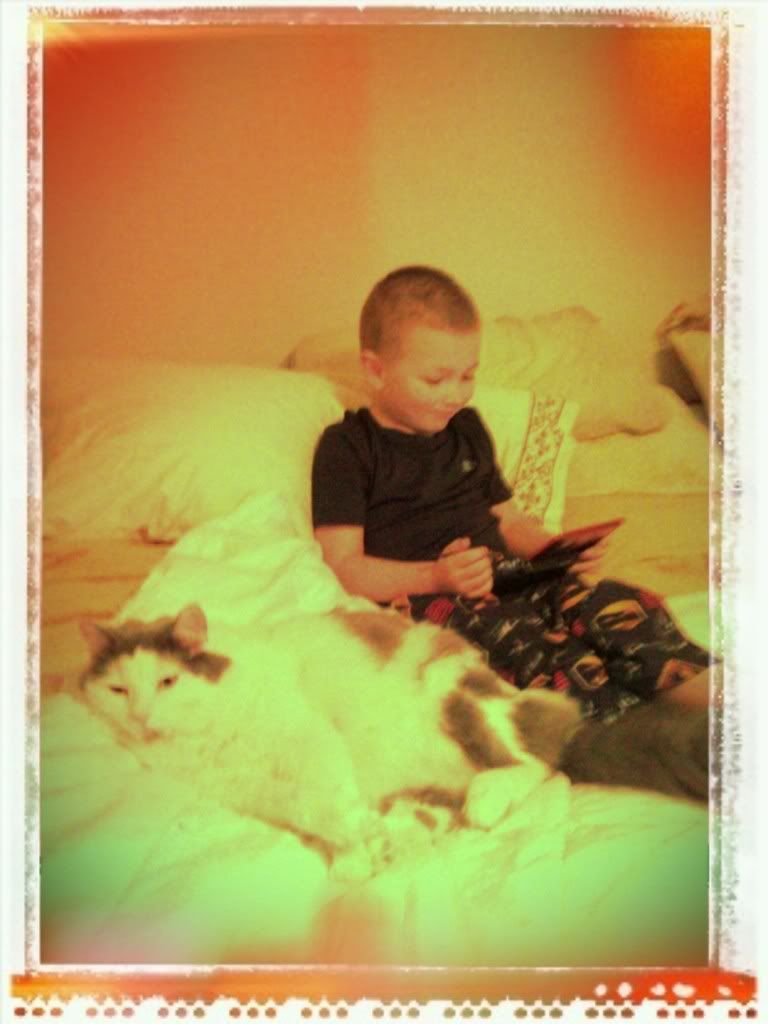 I have a "photo Enhancer" program on my cell phone that I have been playing with. Basically, it has 8-10 "finishes" that it applies to photos, you can only do one at a time and there's no cropping or anything, but I kinda like the way it looks on some photos.
I posted the original of this first photo a few days ago. There isn't a whole lot going on in the photo, color wise