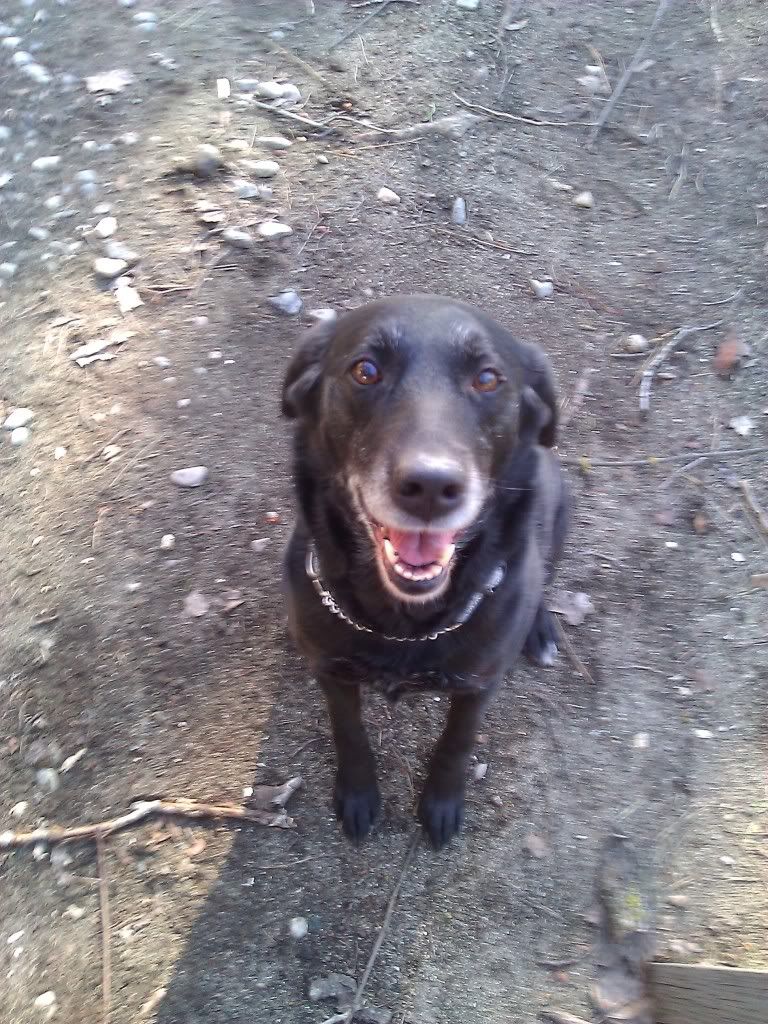 Rosie ready to go in!

We (and by we I do mean the Dog and I) got outside for a while this afternoon! Of course, she was ready to go back inside quite a while before I was, lol. I was trying to get the paneling (recycled from our spare room) to fit into the chicken coop. No, I'm not paneling the walls...I need something to cover the large gaps in the ceiling! I cut and cut and cut, tying to get that silly panel in! I even tried cutting my nice piece (that when measured should have fit perfectly, but simply refused to go in) in half trying to get it to go in piece-wise! It just wasn't working...maybe it was my lack of ability to cut a straight line...who knows?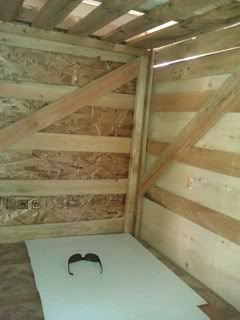 The white is my paneling...

About that time though, the stack of boards that I had been storing in the coop (a mix of 2x4s, plywood pieces, and the "leftovers" that got pulled off the pallet crates) fell over outside the coop. I went to pick them up and stack them on the roof of the coop when I had an "ah ha!" moment! I grabbed the nearest board, which happened to be a semi-large chunk of OSB I plan on using to cover the big wall gap in cold weather) along with the larger width from the leftovers. Slid them in side-by-side between the runners on the roof of the coop, and they fit like they were cut to be there! Tomorrow I'll be dragging all of my "scraps" around back and nailing them to the roof! Or rather, they will be the roof! Since it's under the deck, I don't need anything that is technically weather proof...just predator proof (within reason), since it will also be enclosed in the run, not a huge issue, but I do want to sleep well at night knowing there aren't huge places where the roaming cats in the neighborhood can't get in (we won't even think about the larger ones...).

"Scrap" boards are now the roof!

I didn't take any nails around back with me (what, you thought I was actually going to install the paneling? pfft, lol.) so I have two sections laid out and ready to nail down, I'm going to have to scrounge through my pile in the garage to find wood for the other two sections. I'll get to the nailing tomorrow, soon as I figure out a way to do it from the inside...I can't get a hammer or my drill in from above, lol. The five horizontal boards in the pic are what was the floor of the crate, the verticals are what I need to secure in place. Looks pretty darned sturdy though!
Front of the coop, pop door going below the orange paint, I think!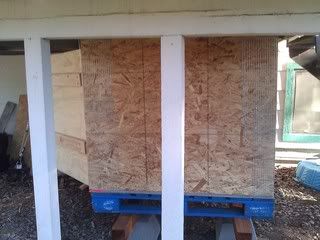 Side of the coop, almost done still needs some trim.

Coop back side!
 I still need to order the sandbox for the girls, but I plan to do that tonight! They don't all fit in the skillet anymore, lol. Clyde had to wait while the other two took a dust bath in the fresh sand I added last night. I also found out they are
terrified
of the kitty litter scoop! Learned my lesson...next time I'll remove the pan from the brooder before I clean it, lol!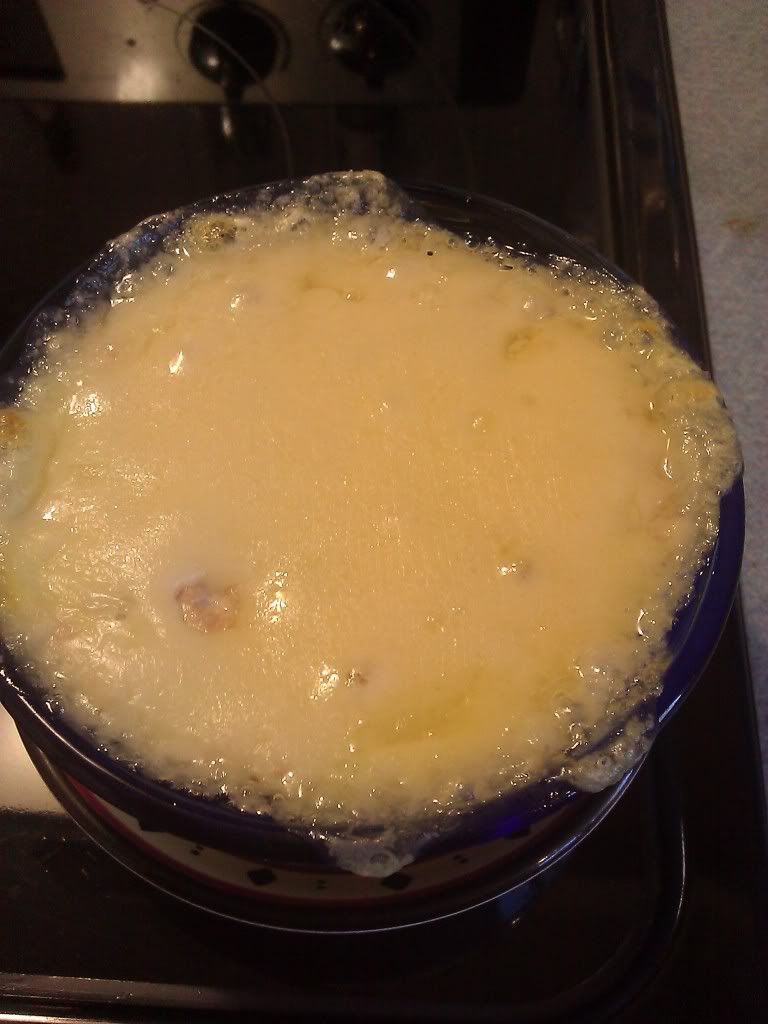 Tuna Melt in a Bowl!
 I had fun cooking today too...I enjoy spring the best I think. Warm enough during the day to be out in a tshirt, but still chilly enough that I want to cook! During the summer we eat almost exclusively off the grill! For lunch today, I wanted another Tuna Melt. Yup, still totally bonkers over tuna and sugar free sweet pickles...opened my third jar of them in two weeks! That wouldn't be so bad if I weren't the only one eating them, lol. Any who, I didn't feel like tomatoes today or a MiM. So, I mixed it up and pushed it all into a 1/2 cup ramekin! I topped it with a slice of Swiss (I'll be glad when that's all gone) and put it under the broiler for a few minutes. It actually started to brown a little this time! I should have let it go a little longer, but I was hungry, lol. It was great and just what I needed for lunch! Though, I should have had a few cucumber slices with it or something...I'm still not getting enough veggies every day!
After my other half got home, we went for a walk to the end of the block and back. I know, not very far...but we are just starting out on this whole "exercising" thing! Out of the last 4 days, we have gone for a walk 3 of them! Yesterday, I chose not to because I wasn't feeling well. On Monday, it was raining so bad that we opted to not start the walking regime that night, we did go browsing at Best Buy and Pet Smart though...so we did get some walking in! We also got some TV shopping in (a purchase we are going to be making in the near future) as well as some adoptable kitty cuddles in! We saw the friendliest old fellow there! He was a DSH (domestic short hair) Orange Tabby with a voice that just didn't stop! He was definitely a talker and super friendly! I should have taken his picture, but I was too busy giving cuddles through the gate! He's an older kitty, his card said he was 9 years old! If we didn't already have 1 dog, 2 cats, and 3 chickens...he would have gone home with us! 6 pets is our limit I think though, lol. Tuesday we went around the block in one direction (mainly to spy on our neighbor and see what the front of their house looked like (the back is trashed)), on that walk we discovered that another fence sharing neighbor has those large lion statues at the end of the driveway and they are the same size as Rosie! She wasn't paying attention and walked smack into one and jumped back when she saw a mouth full of pointy teeth! It was pretty funny, and even better when we got to the other side of their driveway and she did it again! She had been turned around watching the other lion, lol. Wednesday we went the other way (with the wind instead of against it) and got to walk down hill for the last block, lol. Tonight though, our plan had been to walk to the park (down the street 2 blocks) and see how far we wanted to go once we got there. That plan was squashed when my other half remembered he had some work he had to get done tonight (for work) and that he needed to be home by 6pm to do that. We still wanted to go to Costco to check out the TVs there, so when we got to the stop sign (our side of the busy road at the park) we turned around and came home. At least we got in our 4 block walk!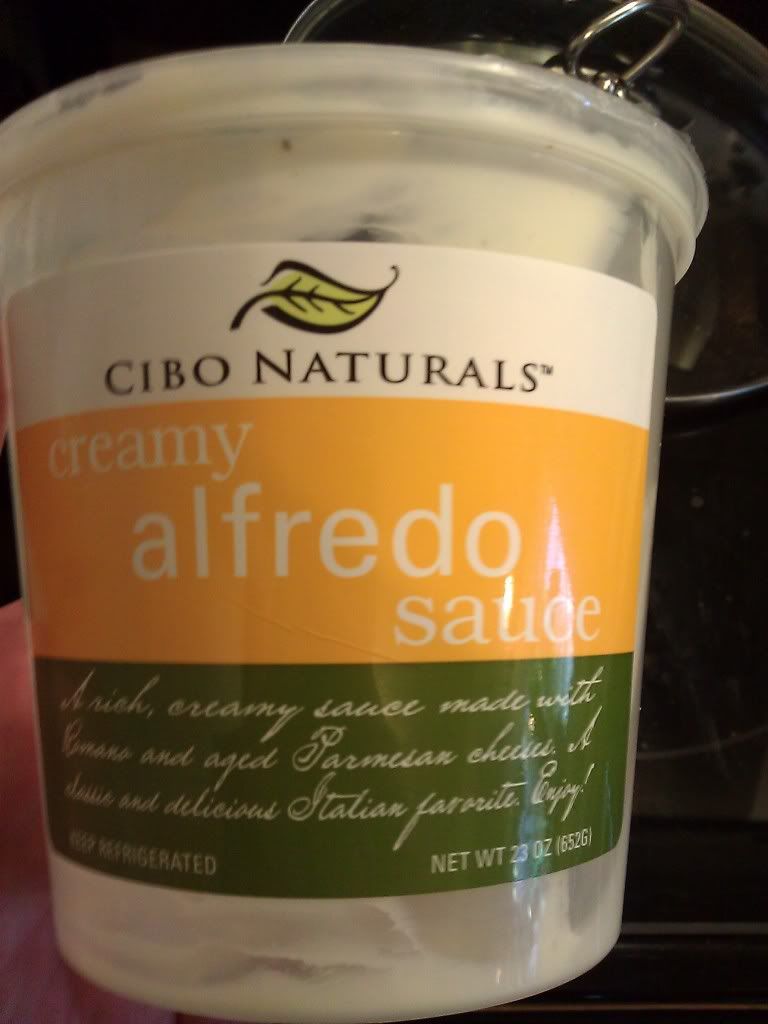 $7.75 at Costco!
 We did find, I think, the TV we're going to get. All I know is that it's a 40" flat screen made by Magnavox...but I'll post pics of it when we get it purchased and on the wall, lol. It's replacing a several year old TV in our bedroom, with a wall mount, we'll have the top of the dresser back again! While at Costco, we came across an Alfredo Sauce that had a decent carb count...it was almost the exact ingredients I had planned to use to make my own (but I don't use Xanthum Gum)! So, we got it to try... I wasn't impressed, I think mine has better flavor. But, for a quick meal, it wasn't bad at all! I made my own version of a low carb "Hamburger Helper" with it. We browned 1 pound of Hamburger, set it aside in a bowl, and then I added butter to the pan and added almost 2 packages of sliced mushrooms! I had most of a package of Criminis (baby portebellas) and a new package of white buttons, all presliced. Once they had sauteed, I added the meat back in along with 1/2 cup or so of frozen peas. I let it cook for a few minutes to thaw the peas out and then added the container of Alfredo Sauce! Next time though, I think I'll cook the sauce separately as it sucked moisture out of the peas and mushrooms and created a very soupy sauce! However, the one bowl filled me up! I am totally stuffed! Though, I may try my hand at "baggy ice cream" later tonight, lol.

Hamburger, Mushroom, & Peas in Alfredo Sauce!