So, I just haven't felt like sitting down to post lately. I have other things going on after all!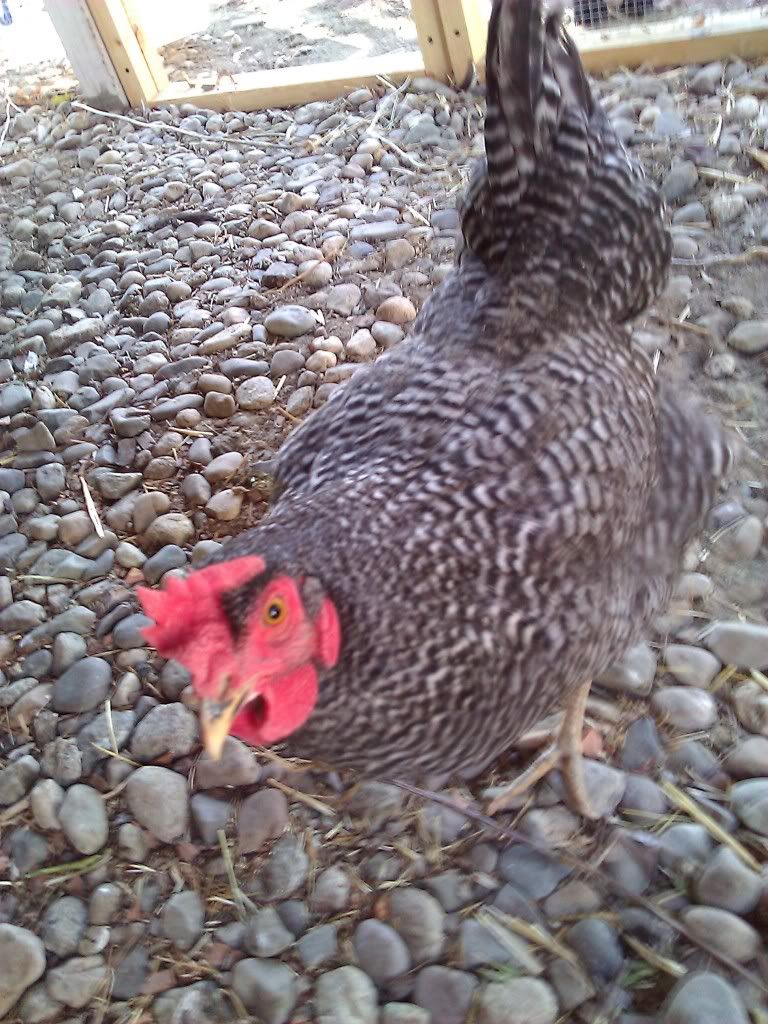 The only chicken to lay so far, everyone told me roo!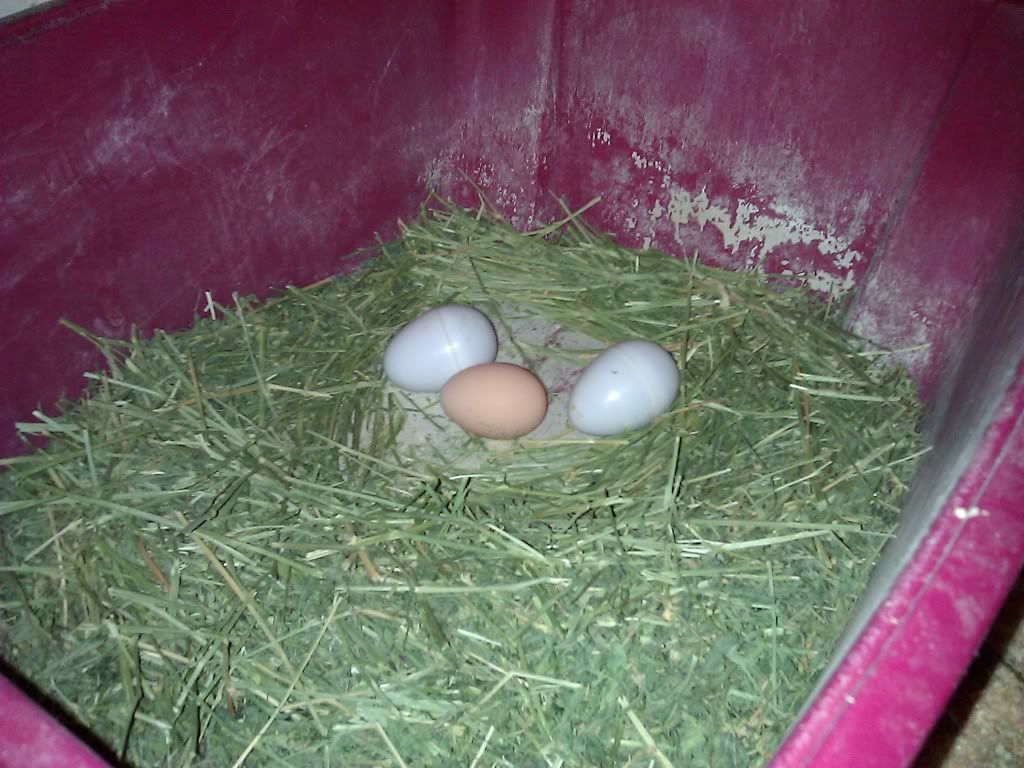 I added more hay after this!
Gertrude is laying almost every morning now (she takes a break every 5th day) and has started using the nest box finally! We switched out the big bin I bought for an old cat litter box we have, but she couldn't fit in the door, so ignored it until I took the top off a few days ago. She now goes in every morning after having a bite to eat and some water to lay her egg. I say morning because she usually starts the process around 8:30...but, like today, Clyde and Henri were "playing house" in the nest box and she had to wait until they were done (she's nice like that), then it takes her a while to get situated (especially now that she's laying with the two fake eggs that she meticulously gets under her wherever she has made the dip for the day), and finally she gets to laying! Today's egg didn't make an appearance until after 10:30 (when I had to leave the house). SHe's now laying eggs that weigh in at 1.5 ounces, up from 1.2! She should be laying at greater than 2.0 ounces when she gets "up to speed", she should lay large size eggs.
Let's see...the shelter dogs! I'm still doing that one to two times a week right now. My favorite dogs are all still there (boo!) and after today, I'm officially a Dog Deputy (or I will be as soon as she ups me in the system)! I miscounted my hours and left myself 15 minutes short at the end of the month, so I didn't make it in a single month like I was hoping to, but that's my own stupid math error! Also, I'll be volunteering at the fair (September 6-18, 2011)! I'll be there for sure the morning of the 14th...come see me, I'll be working the prize wheel! Hopefully, I'll be able to get a shift as a dog promoter too, but we shall see how things go, I'm also "on call" for the other days of the fair in case someone can't make their "shift". I saw in an email (for either SHS or Spokanimal) that over 100 dogs got adopted last year! I'm going to try to get in on some of the kitty cuddling too, but my plate is a bit full at the moment! I am also getting set up as a Mentor! I need to officially become a dog deputy and fill out my "about me" form...and get a decent photo(!), but I should be starting that in September/October too! I also got added as a dog promoter...meaning I'll have the opportunity to go do off-site events, like when they have dogs and cats out at the local pet stores and such. A few weeks ago, Fred Meyer had some big celebration going on for one of the stores here in Spokane and so all of their stores had dogs and cats set up in the shade, it was great! I got to see Sissy (the black lab that took my lead for a swim minutes after I bought it), who I hadn't seen in a while! I was just there shopping, but it was nice to see them out there!
If you watch Cleo closely, you'll notice she knows "sit", but she won't do it for me until there is a treat in my hand! I love Cleo, she is such a cool girl! She thinks cats are tasty treats though...
Also, I have started setting up my "adults only" blog...just waiting on the other half to get set up as a contributor and help me figure out the "page" things...I can't get anything to move from the "home" page! It'll be mostly reviews for now...but may include other things as time goes on. I'll let you all know the name once it looks all pretty and stuff!
Oh, and my sister and her hubby finally settled on a name for the new baby...Wyatt Paul should be here on Thanksgiving Day! Poor kid...his initials will be WPDM (whipped 'em), lol! I may or may not be down there, I have been considering leaving here when I know her butt is staying at the hospital to have him (she plays chicken with the maternity staff every time...she's already been there once this time!), but I may have to wait until Christmas, depending on if I/we can find a suitable pet-sitter by then. I need to have someone come and feed/water the chickens and collect the eggs every day. I also hope by then to have larger feed and water (getting a heated one for winter) by then, but as of right now, the water need filled daily and feed every other day, minimum. The dog will go with us if/when we go and the cats are just dandy if left with enough food/water for a few days (but they do get even with us for leaving them alone).
I'm also considering trying my hand at replacing the kitchen sink...we desperately need a new faucet and while I'm there, I'd like to replace the sink with one better suited to my needs (small side with disposal and a larger tub side for dishes and such). Of course, if I do that...then I want a new disposal too...and the pipe work down there is iffy at best, so those would need replacing too... I may just get a new faucet, lol. I think I would be in some major trouble if my other half came home from his trip at the end of September to find I'd destroyed the kitchen sink, lol. At least I don't plan on ripping up the floor while he's gone...before we get a new fridge though, it needs to be done though! Along with the removal of some cupboards, painting, and fixing of the wall behind the cupboards! Might as well call it a mini-kitchen remodel! The counters are safe...I can't afford to replace those and the stove and dishwasher are new (enough)!
bun
! Afterward, we cheated big time! We went across the street to Coldstone Creamery and had the middle size of a creation! I had Coconut Cream Pie, which is graham cracker crust bits, coconut, and lots of whipped cream! It is supposed to be made with French Vanilla ice cream, but since I was cheating, I went all out and got it with Birthday Cake ice cream! It was yummy. They put so much add-ins in it that it filled the larger container! I took about 1/4 of it home and used it to treat a low the next day. I did pay for my cheating...I had a major carb hangover the next day as well as blood sugars bouncing between 50 and over 300! I have, however, lost most of the 5 pound "monthly" gain now.
On my mile-long-to-do list is "make cupcakes for my birthday"...I have yet to make these and my birthday was 4 days ago! I'm consistent like that though....the other half's last birthday cake was 2 weeks after his birthday and the last cake I planned to make for my Mother got sent home with her as a can of frosting and a cake mix! I hope to get it made tomorrow though...I have to, the butter is out on the counter! However...in lieu of a "cake", I managed to get my hands on a box of Sugar Free Oreos! They are 3 net grams of carb per cookie, but they taste just like the real thing! That is, if the real thing tasted like it was made with Stevia...the "stuff" has a slightly minty aftertaste to it, but if eaten whole (who the heck does that anyway?), the taste difference is negligible. A box has 16 cookies in it and we have opted to savor the flavor and only have 1 cookie each per day for 8 days. We can afford that many "iffy" carbs. They are made with wheat flour and some other stuff...like a regular Oreo, but the carb difference is huge! One serving of regular Oreos is 24 net grams of carb (you get to subtract 1g from the total 25g for the fiber)...one serving of the Sugar Free Oreos is 6g net carbs (after fiber and sugar alcohols have been subtracted)! We share one serving, which is 2 cookies.
And the last thing I believe I have to catch up on...my crocheting and (learning) knitting! I recently gathered up all of the projects I had worked on in the last year (or at least those I remember doing this year and could find) and took a photo of them all together. I have been a busy girl! Even more impressive (to me) was that most of them had been done since June! The only thing missing there is the baby blanket I finished and the one I'm still working on. I really don't like making blankets in the round...I need to stop starting them! But anyway...here I have (in no particular order); 6 baby/child size hats (4 of which have ear flaps), 4 pillow pal puppys, 1 teddy bear (not doing that again either, he looks funny), 6 baby wash cloths (4 from the same pattern, 3 of those match color-wise too), a car seat blanket (which started out as a round blanket for me, but I hated the pattern so much I stopped it right where I was...lucky for me, it's perfect to fit in a car seat!), 3 mini stockings (5-point granny squares), 4 doilies (3 of which are done in size 10 thread and the last in size 3), 1 reusable dryer sheet (I found a recipe for the spray on another blog - somewhere, and decided I could crochet my own instead of purchasing washcloths to use like the blog said to do) ,and a deep purple cowl (around the bear's neck)! The cowl is something I started over 5 years ago, so it isn't really "new"...but it started out "life" as a scarf made from the leftover yarn from making a gift for someone else. By the time I got around to making this though, I had lost the label to the yarn and have not been able to find the yarn since! So, one day last week, I was holding this in my hand contemplating whether I wanted to rip it all out into a ball and use it for "something" or if I could figure something out to "finish" it. Turns out, at roughly 25 inches long, it fit around my neck perfectly! So, I pulled out the half finished row and crocheted the two ends together! It is pretty and warm to boot! I always have issues with scarves...how do you wrap them so they keep you warm, don't choke the daylights out of you, and look good?!? I can't do it! So, this will be nice this winter, just throw it on and voila!